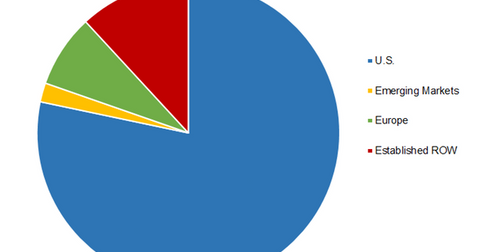 AstraZeneca's Imfinzi Maintains Strong Growth in Q1
By Margaret Patrick

Apr. 30 2019, Published 1:55 p.m. ET
Imfinzi's first-quarter performance
In the first quarter, AstraZeneca's (AZN) Imfinzi saw sales of $295 million, mainly driven by its rapid uptake as an unresectable Stage III NSCLC[1.non-small cell lung cancer] treatment in US markets.
In its first-quarter investor presentation, AstraZeneca stated that it expects Imfinzi peak sales in excess of $1.0 billion. The drug, approved in 45 markets around the world, is expected to emerge as a standard of care for unresectable Stage III NSCLC in patients who have been treated with chemoradiotherapy.
Article continues below advertisement
Geographic penetration
In the first quarter, Tagrisso earned revenue of $231 million from US markets, $23 million from Europe, $35 million from the Established ROW[2.rest of world] segment, and $6.0 million from emerging markets.
AstraZeneca reports that more than 50% of unresectable Stage III NSCLC patients in the United States receive chemoradiotherapy, while more than 50% of these patients receive Imfinzi after chemoradiotherapy. The higher percentage of patients on chemoradiotherapy has boosted US demand for Imfinzi.
Imfinzi earned $64 million from ex-US markets in the first quarter, while Japan alone accounted for $34 million of these sales. AstraZeneca is launching the drug in Denmark, France, Sweden, and the United Kingdom, and is focused on securing reimbursement for the drug in international markets.
Upcoming milestones
In its first-quarter press release, AstraZeneca said that it is anticipating a regulatory decision on Imfinzi monotherapy as an unresectable Stage III NSCLC treatment in China in the second half of 2019. The company is also awaiting readouts from other trials evaluating Imfinzi as part of a combination regimen in NSCLC, small-cell lung cancer, bladder cancer, and head and neck cancer.