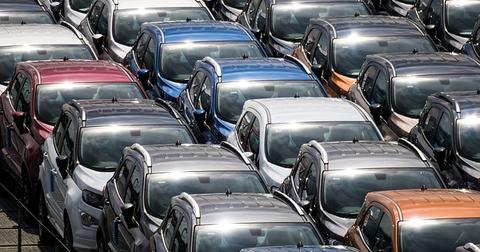 Will GM Listen to President Trump and 'Do Something Quickly'?
By Jitendra Parashar

Updated
The US auto industry
For the last couple of years, US new light vehicle sales (XLY) have weakened since peaking in 2016. According to data compiled by MarkLines, US auto sales fell to 17.27 million vehicle units in 2018 compared to 17.55 million units in 2016.
This negative trend has encouraged mainstream automakers to increase their focus on protecting their profit margins.
Article continues below advertisement
Trump criticizes GM
In November 2018, General Motors (GM), the largest US automaker, announced its plan to close some of its manufacturing plants, including Lordstown Assembly in Warren, Ohio. According to the company, these were "proactive steps to improve overall business performance." Right after the announcement, we told our readers why President Donald Trump might not like GM's plant closure plans in Why Trump Could Slam GM for Its Latest Move to Shut Down Plants. This expectation now seems to have become a reality.
On March 17, in a tweet, President Trump asked GM to open its Ohio plant "because the economy is so good." In his next tweet, he criticized the company saying "G.M. let our Country down" and asked it to "stop complaining and get the job done!"
In another tweet, the president said that he'd spoken to GM's CEO, Mary Barra, and asked her either sell its Ohio plant "or do something quickly." He seems determined to make GM act, as early this morning, he said again that he wants GM's Ohio plant to be "opened or sold to a company who will open it up fast!"
Trump versus automakers
It's not the first time President Trump has criticized automakers for hurting US jobs. Previously, he targeted auto companies Ford Motor Company (F) and Toyota Motor (TM). In contrast, Trump praised Fiat Chrysler Automobiles' (FCAU) plans to move its pickup truck production to Michigan from Mexico in May 2018.
On Monday at 11:20 AM EDT, the S&P 500 Index (SPY) was trading on a slightly positive note, with a 0.2% day gain. While GM was down 0.7%, Ford, Fiat Chrysler, and Toyota were up 0.5%, 0.6%, and 0.2%, respectively, on the day.