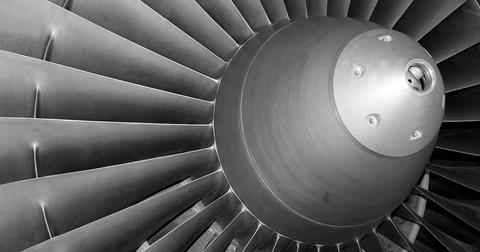 Why GE Rose 3% Yesterday despite Its Weak 2019 EPS Outlook
By Anirudha Bhagat

Updated
Cash flow to rebound next year
General Electric (GE) has issued a weak 2019 earnings outlook and forecast a negative industrial FCF (free cash flow) this year due to its ailing power business. Despite this dismal outlook, though, its stock rose nearly 3% on March 14 after CEO Larry Culp promised a rebound in cash flow in 2020.
Culp stated that the company has complex challenges this year and that his management team is taking strategic actions to strengthen its balance sheet and businesses.
Article continues below advertisement
In a press release, Culp said, "We expect 2020 and 2021 performance to be significantly better with positive Industrial free cash flow as headwinds diminish and our operational improvements yield financial results. We will continue to take thoughtful actions to reduce downside risk and increase upside optionality to create long-term value for our shareholders." GE expects its adjusted industrial FCF to be positive in 2020 and the pace of its improvement to further accelerate in 2021.
Later, on CNBC's Jim Cramer's Mad Money, Culp asked shareholders, employees, and retirees to give his management some time. He said, "We have opportunities, we certainly have some problems. It'll take us a while but if people give us the benefit of the doubt I think they're going to see improvement over time."
It seems investors embraced Culp's view, as the stock made a strong rebound. Notably, GE stock plunged over 4.5% initially in the premarket trading session, but Culp's statement eased investors' fears, and GE gained 2.8% in regular trading hours. So far this year, GE stock has risen 41.5%, outperforming its industrial (XLI) peers. Major competitors United Technologies (UTX), 3M Company (MMM), and Honeywell International (HON) have risen 19.2%, 8.8%, and 17.5%, respectively, this year.
Fiscal 2019 outlook
For fiscal 2019, GE expects its non-GAAP (generally accepted accounting principles) EPS to fall 8%–23% to $0.50–$0.60. The company's earnings guidance range is much lower than Wall Street analysts' consensus estimate of $0.70.
The industrial conglomerate expects its non-GAAP industrial organic revenue to grow in the low- to mid-single-digit percentage range. Additionally, GE expects its non-GAAP industrial margin to expand in the range of 0–100 basis points. The company's non-GAAP industrial margin was 9% last year. The company expects its 2019 industrial FCF to be in the range of breakeven to -$2 billion.