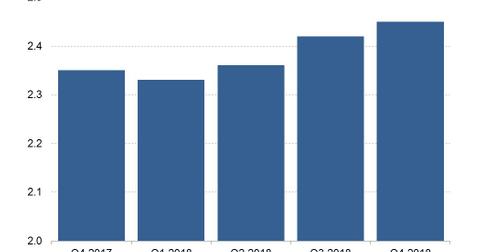 Why Altice May Want to Sell Lightpath Unit
By Ruchi Gupta

Updated
Altice reviewing its options for Lightpath
Altice USA (ATUS) is exploring strategic options for its Lightpath unit, CEO Dexter Goei said at an investor briefing following the release of fourth-quarter results late last month. Lightpath is the Altice unit that specializes in providing fiber-based solutions to large business customers.
When companies talk about exploring options for a business unit, selling part or all of the business in question are typically some of the options they consider. Without stating expressly that Altice is looking to sell Lightpath, CEO Goei offered several hints that a sale of the business may be a priority. For example, he described Lightpath as less central to Altice's overall strategy. He also hinted that eliminating Lightpath could lead to faster growth in Altice's business services arm because Lightpath is currently not growing as fast as the rest of the operations that fall under the Business Services segment.
Article continues below advertisement
Altice could raise more cash capital with Lightpath sales
Altice's business services division grew 5.3% YoY in the fourth quarter, which ended in December. Altice reported overall revenue of $2.5 billion for the December quarter, representing an increase of 4.0% YoY. Comcast (CMCSA) and Discovery Communications (DISCA) recorded revenue growth of 26% and 51% YoY, respectively, in the December quarter. Revenue rose 5.9% for Charter Communications (CHTR) but declined 5.1% YoY at Dish Network (DISH) in the December quarter.
Disposal of Lightpath would not only allow Altice to eliminate a slow-growing business, but it could also generate funds that it could reinvest in the remaining businesses to drive more growth.