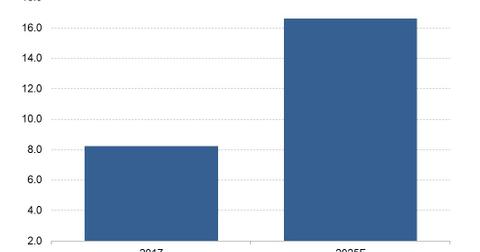 Why All Isn't Well with Facebook's Workplace
By Neha Gupta

Updated
Former Facebook insider doing battle with Workplace
Although Facebook's (FB) Workplace recently marked a milestone of reaching over 2.0 million paying users in less than two years, it may face more resistance as it enters the next phase of its growth.
A former Facebook employee is challenging Workplace head-on. Rousseau Kazi recently launched a workplace chat service called Threads, which is just Workplace with a different name. Threads has raised close to $12 million to support its competition with Workplace, according to a report from CNBC. Kazi is marketing Threads as better suited for workplace conversations than Workplace.
Article continues below advertisement
Workplace's market is getting crowded
In addition to Threads, Workplace is also up against Microsoft's (MSFT) Teams, Cisco's (CSCO) Webex, Google's (GOOGL) Hangouts, and Slack in the battle for customers in the workplace chat software market. Workplace has been adopted by more than 30,000 companies, including big brands such as Walmart (WMT) and Vodafone (VOD), one of the world's largest mobile operators.
On its part, Microsoft is courting hospitals to adopt its Teams chat platform, saying it could help doctors to better coordinate care delivery. As competition in the workplace chat and collaboration software market intensifies, Cisco has revealed plans early this month to expand its Webex platform in Australia with an additional data center in Sydney.
Workplace's market set to double by 2025
Escalating competition aside, there's no shortage of revenue opportunity for Facebook's Workplace. According to Grand View Research estimates, the global market for the workplace team chat and collaboration software market is poised to more than double to $16.6 billion by 2025.