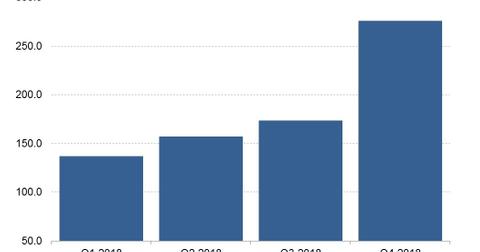 When Will Roku's Global Push Start Bearing Fruit?
By Ruchi Gupta

Updated
Roku making local content and forging partnerships in global push
International expansion will be one of Roku's (ROKU) top priorities in 2019. The company began investing more in international expansion last year and wants to continue on this path this year. Last year's international investments resulted in Roku extending its availability to 20 countries, CEO Anthony Wood said at a recent investor briefing. Although Roku is making progress, the company still has a long way to go in terms of reaching international penetration levels of its peers such as Netflix (NFLX), which is now available in more than 190 countries.
To accelerate its international expansion, Roku is investing in local content and forging strategic partnerships. At the same time, Roku hopes to replicate the strategies that have worked for it in the United States to drive growth in international markets.
Roku aiming for $1.0 billion revenue milestone
Since Roku is still in the early days of its international expansion, the company doesn't expect international operations to be a major driver of growth in 2019, it said in a recent investor update. Instead, Roku is promising investors that they can expect to start seeing results from its international investments from 2020 and onward.
Still, Roku is aiming for a revenue milestone in 2019. The company is aiming to reach $1.0 billion in annual revenue this year. It generated $742.5 million in revenue in 2018. For the fourth quarter ended December 2018, Roku generated $275.7 million in revenue, representing an increase of 46% YoY. Netflix, Spotify (SPOT), and iQiyi (IQ) recorded revenue growth of 27.4%, 30%, and 55% YoY, respectively, in the December quarter. Revenue rose 20% YoY for Amazon (AMZN), and the e-commerce and cloud computing giant that has also emerged as a big player in the digital media industry with its Prime Video service.