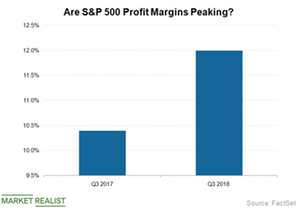 What Is Jeffrey Gundlach's Take on the Next US Recession?
By Anuradha Garg

Updated
Prospect of a US recession
Jeffrey Gundlach's favorite leading indicator for predicting a recession is the US Conference Board Leading Economic Index, which he calls the "granddaddy" of all the indicators used.
Gundlach said that this indicator is falling sharply from a very high level. It's currently at 3.5 from its previous level of 7.0. This leading indicator has always slipped to zero or below zero before any recession has hit.
Article continues below advertisement
Leading indicators
Next, Gundlach talked about the US purchasing managers' index's new order data, which he said is also weakening. In fact, it's signaling caution, and while it's still above 50 (the level that separates expansion from contraction), the trend has started to look like it did a year or so before the previous recessions. He reiterated that while there still isn't an imminent sign of a recession, we could see one in 2020.
A coming recession?
One data point Gundlach presented that concerns him regarding the prospect of a recession is the measure of the US Conference Board's Consumer Expectations Less Current Situation. This metric implies that while consumers have an increasingly rosy view of the present, they continue to view the future with pessimism. He warned that if the current situation also starts to look bad, this indicator could signal a coming recession.
Recent data points out of the United States (SPY) have been mostly negative. The Empire State Manufacturing Index shows that general business conditions have dropped to 3.7 this month, the lowest level since May 2017. US manufacturing and housing data also came in weaker than expected. Slowing global growth and US-China trade tensions seem to be catching up to US fundamentals. 
US companies Apple (AAPL) and NVIDIA (NVDA) have warned that China's slowdown is hurting their earnings. Microsoft (MSFT), Amazon (AMZN), Netflix (NFLX), Alphabet (GOOG), and Facebook (FB) have also been affected by the trade issues between the world's two largest economies.