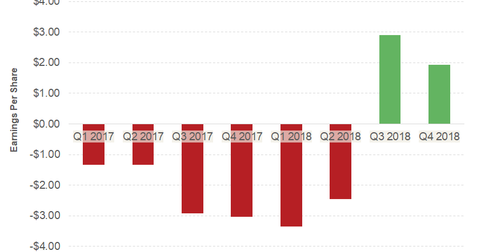 Was Buffett's Right Hand, Charlie Munger, Right about Elon Musk?
By Jitendra Parashar

Updated
Tesla's CEO, Elon Musk
In the previous part of this series, we discussed why Tesla's (TSLA) CEO, Elon Musk, might be on the verge of more trouble. His recent tweets didn't go over well with the SEC. On February 26, a federal judge ordered Musk "to explain by March 11 why he should not be held in contempt for violating a settlement agreement with" the SEC, Reuters reported.
Article continues below advertisement
Munger won't hire Musk
Berkshire Hathaway's (BRK-B) Chairman and CEO, Warren Buffett, is known for his humor and great investment insights. His longtime business partner and Berkshire's vice chairman, Charlie Munger, has a reputation of being very straightforward.
In February 2019, at the annual shareholder meeting of the Daily Journal Corporation, Munger expressed his views on Elon Musk's style of leadership and explained why he wouldn't hire Musk. During the meeting, when someone asked Munger on his criteria to hire someone, he got some laughs by replying, "You must be thinking about Elon Musk."
Munger said, "Of course I want the guy who understands his limitations instead of the guy who doesn't," the Observer reported. He added, "On the other hand, I've learned something terribly important in life… never underestimate the man who overestimates himself. These weird guys who overestimate themselves occasionally knock it right out of the park."
Berkshire Hathaway
Buffett and Munger's Berkshire Hathaway's wise investment decisions have yielded solid returns over the long term, beating the broader market (SPY).
At the end of the December 2018 quarter, Apple (AAPL) was Berkshire Hathaway's largest single holding by stake value. Apart from tech giant Apple, Buffett's firm has also invested heavily in the banking sector lately with stakes in American Express (AXP), Bank of America (BAC), Goldman Sachs (GS), and JPMorgan Chase (JPM). In the auto industry, Berkshire Hathaway owns a stake in General Motors (GM), according to its February 2018 SEC filing.
In the next part of this series, we'll take a look at some recent reports that suggest Tesla might face demand issues.