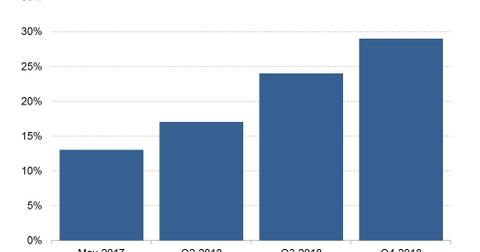 Venmo-Chipotle Deal Reveals Untapped Opportunity for PayPal
By Neha Gupta

Updated
Venmo's payment and social sides
Chipotle Mexican Grill (CMG) has tapped into PayPal's (PYPL) Venmo app to raise digital awareness for its brand and send out cash rewards to customers as it rolls out its Chipotle Rewards loyalty program nationwide. 
According to Chipotle, it decided to run promotions for its rewards program on Venmo because it wanted to have a presence in all the places in which its customers spend time digitally. The company went on to state that it has become one of the most mentioned brands on Venmo.
Article continues below advertisement
Although Venmo is mostly known as a payment app that lets people send money to and receive money from family and friends, it's also a social platform. For example, people can use the Venmo app to post about their purchases or—as is the case with Chipotle—discuss their participation in rewards program promotions.
Monetizing Venmo's social feature
An opportunity exists for PayPal to leverage Venmo's social feature to make extra money from the app. PayPal currently makes money from Venmo by charging merchants a transaction fee to enable them to accept Venmo payments. But PayPal could also open up Venmo as a marketing platform, allowing companies to promote their brands and products there for a fee.
Google (GOOGL) and Facebook (FB) generate billions of dollars in revenue by letting companies run advertisements on their social networks. In the fourth quarter, Google and Facebook generated $32.6 billion and $16.6 billion, respectively, in advertising revenues. Twitter (TWTR) and Yelp (YELP) generated advertising revenues of $791 million and $235 million, respectively, in the same quarter.
Venmo's monetizable base
PayPal is currently in the early stages of monetizing Venmo, reporting in January that Venmo's monetizable base had expanded to 29% in the fourth quarter from 24% in the third quarter.