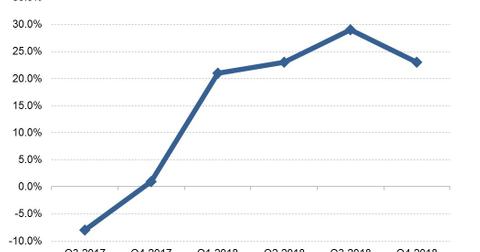 This Twitter Rule Rattles Some Feminists but Charms Advertisers
By Neha Gupta

Updated
Twitter sued by Canadian feminist campaigner
In 2018, Twitter (TWTR) updated its user policy with a rule that prohibits users from referring to transgender individuals with the wrong pronouns. Since the update of the hateful-conduct rule, several outspoken women have been kicked off of Twitter's social platform, resulting in at least one lawsuit against the company.
On March 21, Jo Bartosch, a journalist and outspoken feminist, revealed in a post on Spiked that Twitter had permanently banned her account after she made a comment that the social network operator deemed hateful to transgender people. In November last year, Twitter permanently banned Canadian writer and feminist campaigner Meghan Murphy from its social platform following a series of critical transgender tweets. Murphy has since sued Twitter, accusing the company of practicing viewpoint discrimination, according to a report from the Wall Street Journal.
Article continues below advertisement
Ad revenue is pouring in as Twitter cracks the whip
In recent years, Twitter has stepped up its efforts to foster healthy conversations on its social network, resulting in the removal millions of accounts over various violations, including hate speech, as the Washington Post has reported.
Advertisers can be seen cheering Twitter on. The company reported a 23% YoY (year-over-year) increase in advertising revenue in the fourth quarter—despite reporting a decline in the number active users for that quarter—as it continued to shut down unwanted accounts. Advertising revenue rose 30% YoY at Facebook (FB) and 20% YoY at Google (GOOGL) in the fourth quarter. Yelp (YELP) and Baidu (BIDU) recorded 12% and 10% YoY increases in advertising revenue, respectively, in the fourth quarter.