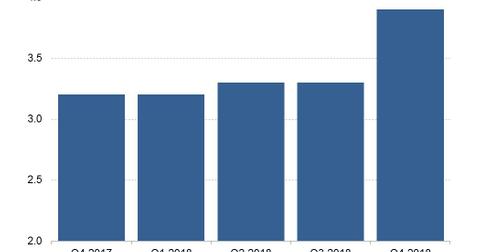 The IRS Creates a Business Opportunity for PayPal
By Neha Gupta

Mar. 14 2019, Published 12:45 p.m. ET
PayPal wooing taxpayers
PayPal (PYPL) wants to cash in on tax season. Americans have until April 15 to file their federal income tax returns. A few weeks after the tax deadline, the IRS (Internal Revenue Service) will start sending out tax refunds to qualifying individuals. For PayPal, tax season seems to have created another avenue for it to recruit new customers and generate more revenue.
On its website, PayPal tells Americans that they can use its platform to receive their IRS tax refunds instead of waiting for the refund check to arrive in the mail. Americans without PayPal accounts are encouraged to sign up and request the company's debit card to be able to receive their refunds quickly. PayPal also reminds Americans that they can use their tax refunds to shop online right from their PayPal accounts.
Article continues below advertisement
PayPal's transaction revenue rose 19%
PayPal earns a transaction fee when people use their PayPal account balances to pay for purchases. Therefore, PayPal's encouraging people to receive their tax refunds through its platform creates an opportunity for it to drive transactions that can generate revenue.
PayPal generated $3.9 billion in transaction revenue in the fourth quarter of 2018, representing an increase of 19% YoY (year-over-year). PayPal's total revenue rose 13% YoY in the quarter. Square (SQ) and Amazon (AMZN) reported revenue rises of 51% and 20% YoY, respectively, in the same quarter. Revenue rose 2.0% YoY at Fiserv (FISV) but tumbled 24% YoY First Data Corporation (FDC) in the quarter.