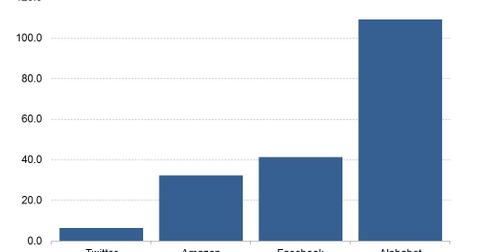 The Cost of Facebook's Ad Discrimination Settlement
By Neha Gupta

Updated
Facebook is paying $5.0 million to settle lawsuits
In addition to pulling certain ad targeting tools from housing, job, and loan advertisers, Facebook (FB) is also parting with cash as part of a settlement with the civil rights groups that sued it for allowing discrimination in certain marketing categories on its platforms.
The company will pay ~$5.0 million to settle five lawsuits filed against it by advocacy groups in relation to its ad targeting practices, the New York Times has reported. For Facebook, this is a palatable bill. The company made a profit of $6.9 billion in the fourth quarter and exited 2018 with more than $41 billion in its cash stockpile. Google parent Alphabet (GOOGL), Amazon (AMZN), and Twitter (TWTR) were sitting on cash stockpiles of $109.1 billion, $32.2 billion, and $6.2 billion, respectively, at the end of 2018.
But the effects of Facebook's housing, job, and loan ad discrimination settlement with civil rights groups could spread far and wide. For Facebook, in particular, limiting audience targeting in certain ad categories could make its platforms less attractive to marketers looking to micro-target ads for better results. If some advertisers feel discontented with Facebook's advertising solutions, they could move elsewhere, shrinking the company's advertiser base. A decline in demand for Facebook advertising because of some advertisers going away could cause the company's ad prices to tumble, hurting its advertising business.
Other digital advertising providers Google, Twitter, and Microsoft's (MSFT) LinkedIn could also feel the pressure from Facebook's settlement over ad bias. Like Facebook, these companies also let advertisers target their messages to specific demographics on their platforms. LinkedIn, for instance, is a popular destination for companies looking to recruit workers.