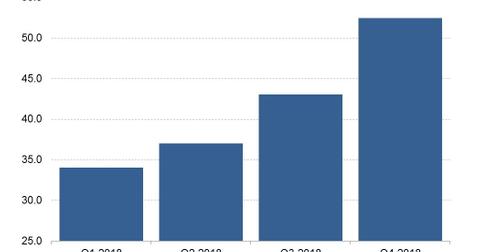 Square or PayPal: Who Will Have Last Laugh with Bitcoin?
By Neha Gupta

Updated
PayPal withdrawal for bitcoin traders
Square (SQ) and PayPal (PYPL) have so far chosen different paths with regards to monetizing bitcoin, the world's most famous cryptocurrency. While Square operates a bitcoin trading platform, PayPal doesn't have a direct bitcoin business.
The closest PayPal has gotten to participating in the bitcoin economy is through an arrangement with Coinbase that allows people to withdraw their earnings from bitcoin trades through their PayPal accounts. Coinbase is one of the world's leading bitcoin exchanges with a presence in some 190 countries and more than 11 million customers. Coinbase introduced its PayPal withdrawal in the United States last year and recently expanded it to Europe. Withdrawing funds from Coinbase to PayPal is free, but there is an opening for PayPal to make money from the whole arrangement. For example, PayPal earns a transaction fee from merchants when customers use balances in their PayPal accounts to pay for purchases.
Article continues below advertisement
Square generated over $52 million in bitcoin revenue
Square has been providing bitcoin trading service through its Cash App since late 2017. It generated more than $52.4 million from this business in the fourth quarter, which ended in December, up from $43 million in the third quarter, which ended in September. Square's bitcoin revenue has been growing steadily as illustrated above. Square earned a profit of about 492,000 from its bitcoin business in the December quarter.
Overall, Square suffered a loss of $28 million in the December quarter, including a loss of $17 million tied to its stake in Eventbrite (EB). PayPal made a profit of $584 million in the December quarter. First Data (FDC) and Fiserv (FISV) reported profits of $162 million and $286 million for the December quarter.