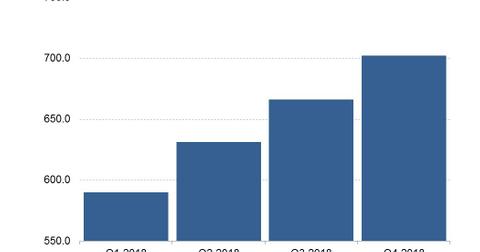 Politics Continue to Muddy the Waters for Twitter
By Neha Gupta

Updated
Twitter accused of defamation and political bias
While appearing before a congressional committee in September 2018, Twitter (TWTR) CEO Jack Dorsey defended the company against accusations that it censors Republican voices while amplifying Democratic views. But Dorsey's assurance of Twitter's political impartiality hasn't kept the company out of political storms.
Republican lawmaker Devin Nunes recently sued Twitter for $250 million. The US House representative from California has made wide-ranging allegations against Twitter, including defamation and the shadow-banning of his Twitter account. According to the GOP lawmaker, the way Twitter has treated him is indicative of a company that's abusing its power in the social media landscape to eliminate conservative voices while promoting opposing views.
Article continues below advertisement
Facebook and Google also have come under political fire
Twitter isn't the only social media company that has faced accusations of political bias. Facebook (FB) and Google have also been criticized by Republicans for alleged lacks of political impartiality.
Potential distraction to Twitter's renewal efforts
While Twitter will have a chance to defend itself in court against Nunes's allegations, the suit could be a distraction to the company as it tries to reinvent itself. Losing the suit could also leave Twitter on the hook for a multimillion-dollar bill.
Twitter's costs and expenses rose 13% YoY (year-over-year) to $702 million in the fourth quarter. Expenses soared 62% YoY at Facebook and 26% YoY at Google's parent, Alphabet (GOOGL), in the fourth quarter. Yelp (YELP) recorded an 8.5% YoY increase in expenses, while Snap (SNAP) reported a 9.0% decline in expenses in the fourth quarter.