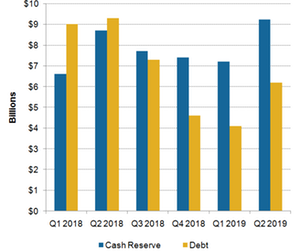 Micron's Balance Sheet Is Ready for an Industry Downturn
By Puja Tayal

Updated
Micron strengthens its balance sheet
During the two-year uptrend from fiscal 2017 to 2018, Micron Technology (MU) improved its cash flows by reducing costs and increasing profits. It used this time to deleverage its balance sheet and improve its cash reserves.
With the onset of the industry downtrend at the end of the first quarter of fiscal 2019, the company stopped its debt repayment in order to prepare for falling cash flows.
In the second quarter of fiscal 2019, Micron's free cash flow fell 57% sequentially to almost $1 billion, of which it used ~$700 million to repurchase 21 million shares. During the quarter, it also increased its cash reserve by $2 billion to $9.22 billion, resulting in a net cash position of ~$3 billion.
Article continues below advertisement
The company sold $1.8 billion senior notes to redeem a large portion of its outstanding convertible notes, which reduced its fully diluted share count by 9 million. The company had a liquidity of $12 billion at the end of the second quarter of fiscal 2019, making it financially strong enough to withstand a downtrend.
Micron's NAND investment 
Micron will use some of its cash reserves to acquire Intel's (INTC) stake in the IMFT (Intel Micron Flash Technologies) joint venture. The IMFT jointly developed the first three generations of 3D NAND (negative-AND) and a revolutionary 3D XPoint technology, which is a storage-class memory designed for AI and data analytics workloads.
With the end of this joint venture, Micron will develop its own fourth-generation 3D NAND using a highly capital-intensive replacement gate technology. As the replacement gate technology will not provide significant cost reduction, Micron's management plans to initially use this technology only in select NAND products. From its next-generation products onward, it will introduce this technology in other NAND products in order to optimize its returns on investment.
Micron's DRAM investment 
In DRAM, Micron is expanding its Hiroshima facility in Japan and expanding the clean room space in its Taichung facility in Taiwan. This expansion will not increase capacity but will maintain DRAM capacity, as the new manufacturing nodes have additional process steps that require more space.