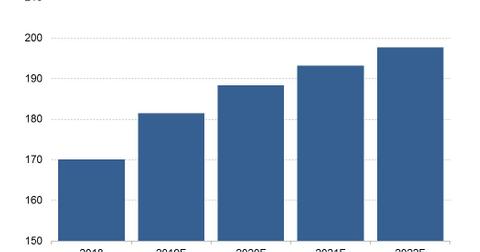 Is Fear of Netflix behind AT&T's Media Shakeup?
By Ruchi Gupta

Updated
AT&T launching HBO-led subscription video service
The way AT&T (T) has overhauled media group WarnerMedia shows a company out to put more pressure on Netflix (NFLX) as it responds to cord-cutting losses and seeks to capitalize on the expanding demand for digital video market. According to eMarketer estimates, there will be 197.7 million digital video subscribers in the United States by the end of 2022, up from 153 million in 2017.
The changes at WarnerMedia include former Comcast (CMCSA) media executive Bob Greenblatt being tapped to helm HBO and the division's other entertainment operations. AT&T is gearing up to launch a new video service anchored on HBO content in the coming months as it works to narrow the gap with Netflix in the video streaming market. Netflix exited 2018 with close to 140 million paying subscribers. AT&T's flagship video streaming service DIRECTV Now closed 2018 with about 1.6 million subscribers. Dish Network's (DISH) SlingTV exited 2018 with 2.4 million subscribers.
Article continues below advertisement
Diversifying the business
AT&T seems to be leaning on WarnerMedia to accelerate the diversification of its business outside of providing telecom services. T-Mobile (TMUS) and Verizon (VZ), who also seem to want to diversify outside their primary telecom industry, have set their sights on the media market. T-Mobile, for instance, is planning to launch a television service that it claims will shake up the cable and satellite television world as we know it today. Verizon invested close to $10 billion on purchases of AOL and Yahoo assets and proceeded to launch a digital media division originally called Oath and now called Verizon Media Group.