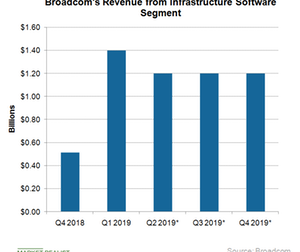 Is Broadcom Shifting Its Focus to Infrastructure Software?
By Puja Tayal

Updated
Infrastructure Software
Previously, we learned that Broadcom's (AVGO) Semiconductor Solutions segment was hit by demand weakness in the smartphone and data center markets. This weakness was more than offset by the addition of Broadcom's newly acquired CA Technologies revenue.
In the first quarter of fiscal 2019, Broadcom's Infrastructure Software revenue stood at $1.4 billion, higher than analysts' consensus estimate of $1.2 billion. Broadcom expects the segment to report annual revenue of $5 billion in fiscal 2019, which implies sustained revenue of $1.2 billion for the next three quarters.
Article continues below advertisement
On Broadcom's fiscal 2019 first-quarter earnings call, CFO Tom Krause stated that the Infrastructure Software segment's outlook was conservative, as the company was still integrating CA Technologies' business. It's currently looking to encourage CA's top 500 clients to convert their perpetual licensing to software subscriptions. Broadcom isn't looking to add new software clients at the moment.
Broadcom's take on the next acquisition
Back in July 2018, when hardware giant Broadcom announced its acquisition of enterprise software giant CA Technologies, many analysts criticized the deal. There were doubts as to whether Broadcom's CEO, Hock Tan, could leverage his skill to derive value from the software business, which is different from Broadcom's core semiconductor business.
A CNBC article on July 12, 2018, citing sources familiar with the matter stated that Broadcom was shifting its focus from integrating chip companies to integrating software companies. The article stated that Broadcom would use CA as a new software platform to undertake further software acquisitions. These reports seem to be coming true.
The recent NVIDIA-Mellanox (NVDA) (MLNX) deal sparked excitement about Broadcom's next acquisition. On the company's fiscal 2019 first-quarter earnings call, Tan said, "We'll look towards broader area of technology, software, and appliances as Brocade would be considered."
The CNBC article stated that one possible acquisition target for Broadcom could be enterprise system and service management software provider BMC. According to a June 2017 Bloomberg report, CA and BMC were in merger talks, but BMC was acquired by private equity group KKR in early 2018.
While the prospect of Broadcom's next acquisition has created excitement among investors, its balance sheet isn't supportive of any major deals. We'll see why in the next article.