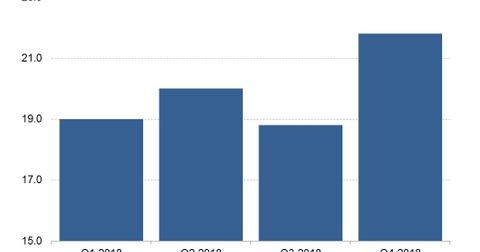 IBM Executive Leaves to Join Vinzan as Vice President of Operations
By Ruchi Gupta

Mar. 15 2019, Published 5:11 p.m. ET
IBM's cybersecurity chief poached
IBM (IBM) has joined the growing list of big-name corporations losing talent to the nascent legal cannabis industry. Last week, Vinzan International announced the hiring of IBM alum Kelsey Barnes as its new vice president of operations. Barnes was most recently head of IBM's cybersecurity teams for the government and financial industry in Canada. Vinzan is a maker of cannabis products. It is headquartered in Toronto, Canada, but operates in several countries. Vinzan is preparing for an IPO later this year.
Just a week before it revealed the poaching of Barnes from IBM, Vinzan announced former Morgan Stanley (MS) executive Donald Stewart as its chief financial officer. Stewart most recently served as Morgan Stanley's international trading division in Canada.
Article continues below advertisement
Cannabis companies seeking tech executives
Amazon (AMZN) and Twitter (MSFT) have also recently suffered talent losses to the cannabis world. Leafly, a company that operates a cannabis product information platform, early this month announced the hiring of longtime Amazon executive Tim Leslie as its chief executive officer. Leslie was most recently the head of international operations at Amazon's digital video entertainment unit.
Cannabis company NorCal tapped Twitter's former head of global brand strategy, Joel Lunenfeld, as its chief marketing officer.
Potential of IBM tech to power cannabis supply chain
While losing its cybersecurity expert to Vinzan may seem to be a blow to IBM, there could be a bright side to it. IBM has built a blockchain-based platform for tracing the origin of food products. As the New York Times reported, Walmart (WMT) has adopted IBM's food trust platform to bring more transparency to its food supply chain. As the cannabis industry grows, it may find IBM's supply chain transparency solution valuable.
IBM generated $21.8 billion in revenue in the fourth quarter, which ended in December, representing a decline of 3.0% year-over-year.