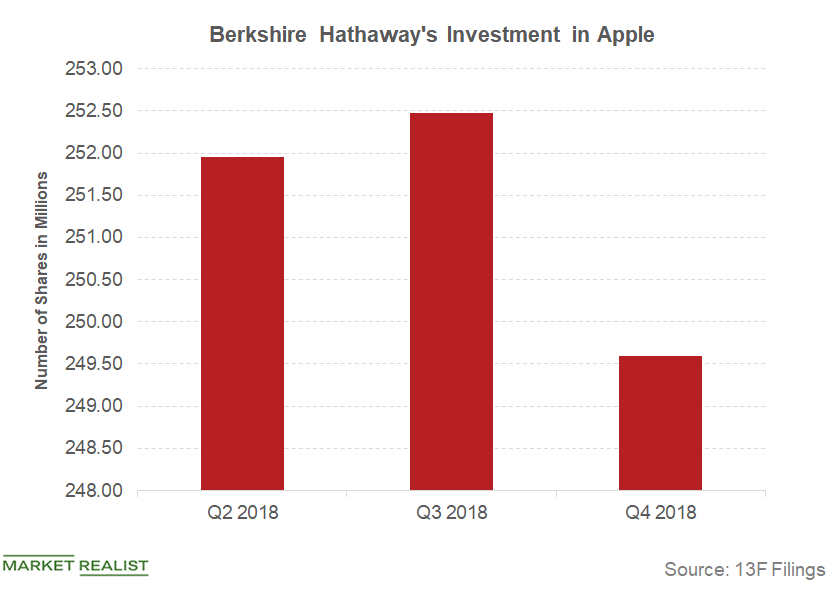 How Warren Buffett Views Apple's Big Bets on Payment Industry
By Jitendra Parashar

Mar. 29 2019, Published 10:26 a.m. ET
Apple's new services
Earlier this week, Apple (AAPL) announced new services including video streaming, a gaming subscription, and a credit card in partnership with Goldman Sachs (GS). While many analysts have been optimistic about Apple's new services announcement and have raised their target price on its stock, some were disappointed. Goldman Sachs analyst Rod Hall called Apple's recent announcements "materially different" than anticipated, and he thinks they won't have much impact on the company's earnings in the short term, "with the possible exception of" Apple's gaming subscription services.
Article continues below advertisement
Warren Buffett on Apple credit card
At the end of the December 2018 quarter, Warren Buffett's investment firm, Berkshire Hathaway (BRK-B) owned about 249.6 million and 151.6 million shares in Apple and American Express (AXP), respectively.
On Thursday, the "Oracle of Omaha" interacted with CNBC at The Gatehouse's event in Texas. When asked whether or not Apple's new Credit Card offerings make him concerned about American Express, Buffett seemingly dodged the question saying, "everybody in the world wants to control payments."
He added that "payments is a huge, huge game and different countries will respond in different ways, but I like our 18% position Amex, and I like our five and a half percent position in Apple."
At the end of the December 2018 quarter, Berkshire also owned 896.2 million, 426.8 million, 129.3 million, 50.1 million, and 18.4 million shares of Bank of America (BAC), Wells Fargo (WFC), U.S. Bancorp (USB), JPMorgan Chase (JPM), and Goldman Sachs, respectively.
Apple Card
Apple says its credit card, the Apple Card, won't have any fees like annual charges, cash‑advance charges, or over-the-limit or late fees penalties. Apple claims that its card users will receive 2% daily cash back if they use it with Apple Pay and 3% daily cash back on payments made at Apple stores. The company said the Apple Card will be available on iPhones this summer in the US, and the company also claims that its card would offer lower interest rates as compared to most other bank credit cards.