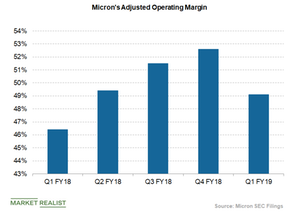 How Soft DRAM and NAND Pricing Could Hurt Micron's Profits
By Sophia Nicholson

Updated
DRAM and NAND chips
Micron (MU) manufactures DRAM (dynamic random-access memory) and NAND (negative AND) memory chips, which are used as the main memory in computers and as storage in mobile devices. DRAM means "dynamic random-access memory" and is used in desktop computers and servers. NAND refers to flash memory and is used in smartphones and solid-state hard drives.
Article continues below advertisement
The decline in DRAM and NAND pricing
Recently, the company has been facing depleting demand for memory chips. Weakening demand in the smartphone and the personal computer (or PC) markets resulted in the oversupply of DRAM and NAND memory chips, which further led to a decline in the pricing for DRAM and NAND chips. Sluggish demand in China (MCHI) (FXI) amid trade war fears has also dented chip demand. Japan's automotive chipmaker, Renesas, has also halted its production to avoid excess inventory build-up, which has further pressured chipmakers including Advanced Micro Devices (AMD) and NVIDIA (NVDA).
Micron's profits to take a hit
On Tuesday, Susquehanna analyst Hosseini stated in a research note that DRAM and NAND pricing was trending below expectations in the first half of 2019. Hosseini expects lower chip demand to hit margins, which will ultimately hurt the company's profits. The analyst also doesn't expect margins to rebound soon given excessive inventory pile-up.
Micron's gross margin expanded 360 basis points to 59.0% in the first quarter of fiscal 2019. Likewise, the operating margin increased from 270 basis points to 49.1% in the first quarter. However, both gross and operating margin declined from the preceding quarter's margin levels of 61.4% and 52.6%.
Micron's first-quarter results were also negatively affected due to a drop in demand and thus the prices for chips, which also led Micron to forecast lower-than-expected earnings for the second quarter of fiscal 2019. Micron anticipates earnings of $1.75 per share, plus or minus $0.10 per share for the second quarter.