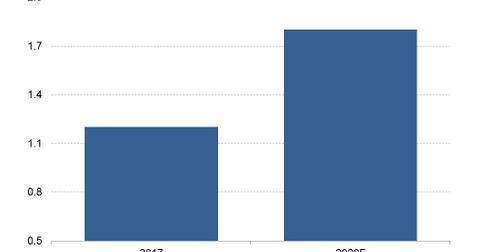 How Project Zero Could Help Amazon Control Costs
By Ruchi Gupta

Updated
Opportunity to cut counterfeit refund program costs
The recently launched Project Zero to combat brand counterfeiting is another initiative that could help Amazon (AMZN) kill two birds with one stone. In addition to helping Amazon keep its reputation clean, the Project Zero initiative could also help Amazon make cost savings and make its platform more attractive to merchants.
To build trust in its business, Amazon created a program where it refunds customers affected by counterfeiting on its marketplace. But there are costs involved in this refund program, and Amazon stated in its latest annual regulatory filing that the costs associated with its refund program for counterfeit incidents could rise as more sellers join its marketplace. Therefore, if Project Zero leads to Amazon's marketplace becoming free of counterfeits, then it could open up a cost-saving opportunity for the company.
Article continues below advertisement
Boosting marketplace attraction for sellers
Counterfeiting is a huge financial drain on genuine brands. According to estimates by ResearchAndMarkets, sales of counterfeit goods cost legitimate brands $1.2 trillion in lost revenue worldwide in 2017. By 2020, the trade in counterfeit goods could cost genuine brands more than $1.8 trillion in lost revenue.
From this perspective, Amazon's efforts to rid its marketplace of counterfeits could make it more attractive to sellers. Marketplace operators like Amazon generate a huge chunk of their revenue from seller fees, which explains why there is tight competition for sellers. eBay (EBAY) last year sued Amazon for allegedly poaching its sellers. Given its size, Amazon is the target of rivals seeking to grow their seller base. According to a report from Feedvisor, 52% of Amazon sellers have shops on eBay's marketplace, and around 25% have shops on marketplaces owned by Walmart (WMT). Some 17% of Amazon sellers operate shops on Shopify's (SHOP) platform, and Adobe's (ADBE) Magento hosts about 4.0% of Amazon sellers.