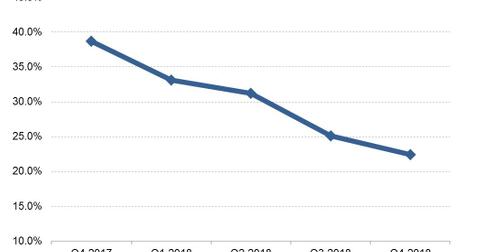 How JD Wants to Survive China's Economic Slowdown
By Ruchi Gupta

Updated
Company removing 10% of executive jobs
JD.com (JD), planning to shrink its executive team this year, is seeking to better control costs as revenue growth slows amid an economic slowdown in its domestic market, China. The company plans to lay off 10% of its senior executives this year in an apparent cost-cutting effort, Reuters reported last month. A JD spokesperson told Reuters that the company was aiming to maximize its resources to ensure quality growth of the business in the future.
Article continues below advertisement
Job cuts following a hiring spree
JD is looking to shrink its workforce by removing some top management positions this year. These cuts come after a hiring spree that drove up costs and led to a wider loss in its latest quarter. JD closed last year with 178,000 full-time employees, up from 157,831 employees in 2017. The company reported slowing revenue growth in the fourth quarter, to 22.4% YoY (year-over-year) from 38.7% YoY a year earlier.
JD's loss widened
JD lost $720 million in the December quarter, a significantly wider loss than the $136.4 million it lost in the same period a year earlier—hiring for product development and marketing teams drove up expenses. Alibaba (BABA) and Amazon (AMZN) reported profits of $4.8 billion and $3.0 billion in the December quarter, respectively, while eBay (EBAY) and Etsy (ETSY) reported profits of $763 million and $41.3 million.