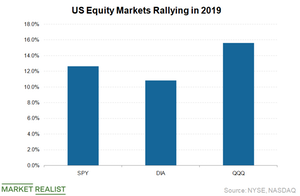 Gundlach Isn't Convinced with the Fed's Rate Hike Outlook
By Anuradha Garg

Updated
Gundlach on the Fed's rate hike outlook
Jeffrey Gundlach mentioned that while he predicted that the Fed would go down from two expected hikes in 2019 to 0.5 hikes, the Fed surprised him by projecting no hikes this year. As we highlighted in Gundlach Predicted the Fed's 2018 Direction Change-What's Next?, he thought that the Fed might reduce its rate hike expectations for 2019 and increase them for 2020, which implies to the markets (QQQ) that the weakness in the economy is short term.
Article continues below advertisement
Gundlach surprised by the Fed's dovishness
The Fed went one step further and lowered the projected rates for 2020 and 2021. Gundlach said, "what the heck is that '1 hike in 2020' thing about? It seems almost desperate. Fed has gone from 'we got this' to 'we'll get back to you.' Not reassuring."
In December, Gundlach was one of the prominent investors who was very vocal about how the Fed shouldn't be raising rates when the economy (DIA) isn't overheating and inflation (TIP) is low. He said that the Fed shouldn't have kept rates (TLT) so low for this long. Now, that the Fed has pivoted since January and has turned visibly dovish, Gundlach is still concerned.
U-turn caused uncertainty
As reported by Reuters, Gundlach said, "This U-Turn – on nothing fundamentally changing – is unprecedented." He also said, "Three months ago, we were on 'autopilot' with the balance sheet – and now the bond market is priced for a rate cut this year. The reversal in their stance is stunning."
Gundlach thinks that the Fed's move will add to uncertainty in the market (SPY). The move will likely hurt the Fed's credibility.