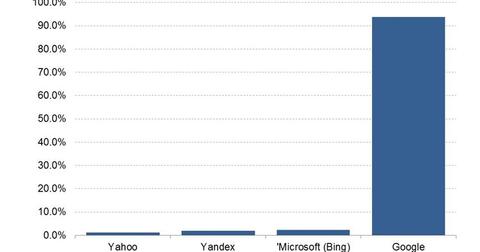 Google Seeks To Overturn $2.7 Billion Antitrust Fine
By Neha Gupta

Updated
Google antitrust lawsuit
Alphabet's (GOOGL) Google is seeking to overturn the $2.7 billion fine imposed on it in 2017 by the European Union's antitrust agency. The competition watchdog hit Google with the fine after concluding the company was engaged in anticompetitive practices in delivering search results for certain shopping-related queries.
In a move that could complicate Google's fight, some of its fiercest critics have been allowed to join the challenge of its appeal of the fine, according to Bloomberg. While the European General Court has allowed German magazine publishers, the European Consumer Organisation, and price comparison company Foundem (the first complainant) to be involved in the case, Google has managed to overturn the inclusion of Yelp (YELP) and advocacy group Consumer Watchdog. The search giant has also received the backing of the Computer & Communications Industry Association in the appeal process.
Following its investigation of Google's practices, the European Union's competition regulator concluded that Google hurt its rivals by misusing its dominant market in Internet searches by placing its own products prominently in shopping search results. Google denies any wrongdoing.
Google held 93.7% of the European search engine market in February, according to StatCounter. Its closest competitor in the market, Microsoft's (MSFT) Bing, held just 2.3% of the market, and Yandex (YNDX) and Verizon's (VZ) Yahoo held 2.0% and 1.1%, respectively.
Google could face more competition in the European search engine market, considering that e-commerce platforms are becoming popular with consumers searching for items to purchase. Amazon (AMZN), eBay (EBAY), and Alibaba (BABA) have a major presence in Europe or are seeking to expand in the region.
Article continues below advertisement