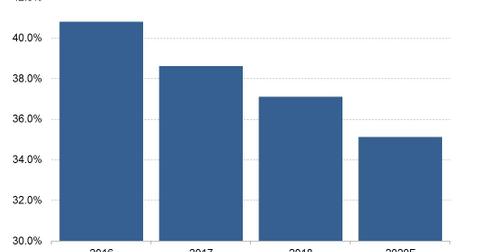 Google Exposes Its Vulnerability to Escape Wrath in Australia
By Ruchi Gupta

Updated
Australia exploring a clampdown on Google
Australia is considering broad media reforms in an apparent effort to help its news publishers survive in the digital era, during which traditional media operators are struggling to compete with technology companies for advertising revenues. As part of these reforms, Australia has looked into the influence of Internet giants such as Google (GOOGL) and Facebook (FB) on its media industry.
Last year, Australia's competition regulator released a report recommending increased scrutiny of digital advertising giants. The report noted the significant power that Google, for instance, wields in terms of Internet searches, digital advertising, and online news distribution in Australia.
Article continues below advertisement
But Google says it's not all that powerful, suggesting that the regulator's recommendations could weaken its business in Australia. According to Reuters, Google says that the recommendations are based on a mistaken view of its market dominance. The company also says that it faces fierce competition from Amazon (AMZN), Expedia (EXPE), and other providers in Australia's Internet search market.
Google reveals its vulnerability to Amazon's rise
For some time, Amazon has been viewed as a growing threat to Google in the digital advertising market given that its marketplace ads appeal to brands seeking to connect with consumers at the moment they have the intent to purchase. Google's defense in Australia may have just confirmed its vulnerability to Amazon's rise.
Amazon captured 4.2% of digital advertising dollars in the United States in 2018 compared to 37.1% at Google, 20.6% at Facebook, and ~3.3% at Verizon (VZ), according to estimates by eMarketer.