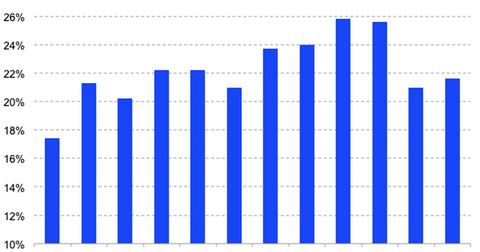 Google Could Transform the Gaming Experience with Stadia
By Sanmit Amin

Updated
Stadia will let players stream games from the cloud
The fast-growing gaming industry is getting more competitive by the day. The latest company to double down on gaming is Alphabet's (GOOG) Google, which has announced a live-streaming service called Stadia that will be launching this year.
Stadia will allow players to stream video games from the cloud without needing clunky and expensive hardware. Since Google will run Stadia on the cloud, streamers won't need additional hardware or software. This endeavor will be made possible by Google's massive data center infrastructure.
Stadia will let players stream to any device using Google's Chrome browser. Viewers streaming video games on Google's YouTube will also be able to play by simply clicking a button. Streamers will also be able to make queues for audience members who want to play with them.
Article continues below advertisement
Google will be revolutionizing gaming through Stadia
While YouTube has a lot of gamers streaming on it, Amazon's (AMZN) Twitch is far ahead of it in the streaming space. However, with its latest move, Google is taking gaming to the next level by letting people consume content without the need to download a file.
This move threatens the businesses of console makers such as Nintendo and Sony (SNE). Google has also said it will be launching its own studio for creating games.
While Google's latest move into gaming is quite literally game-changing, the tech giant hasn't yet mentioned how it plans to monetize it—though there could be several avenues for that.