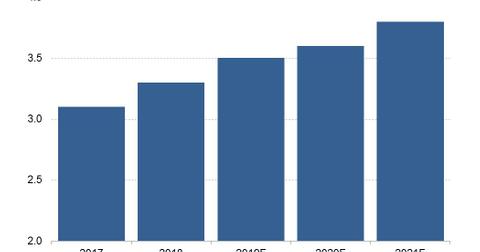 France Continues to Make Trouble for Google
By Ruchi Gupta

Updated
France sets out to tax Google's revenue
Fresh from hitting Google (GOOGL) with a $57 million fine on charges of data privacy violations, as Reuters reported, France is continuing its assault on the Internet search giant. The country recently introduced a special type of tax aimed squarely at big technology companies such as Google.
The so-called digital tax will apply a 3.0% tax rate on revenues that major technology companies generate from digital services in France. Taxes typically apply on profits, but in this case, France is moving to tax revenues, which could shave off a substantial amount of the profits Google and other targeted companies generate in the country. France is looking to raise ~$565 million per year through its special digital tax.
Article continues below advertisement
Google in the tax net
The tax applies to companies that generate at least $847 million in annual revenue worldwide and $28 million in France. That puts Google, Facebook (FB), and Amazon (AMZN) in the tax net. Google parent Alphabet reported revenue of $136.8 billion in 2018. Google contributes the vast majority of Alphabet's revenue. Facebook and Amazon generated revenues of $55.8 billion and $232.9 billion, respectively, in 2018.
France's top search engine company
Google is the top search engine company in France, with a 94% market share in the country in February compared to 3.2% for Microsoft's (MSFT) Bing and 1.6% for Verizon's (VZ) Yahoo, according to StatCounter data. Google monetizes its search service through advertisements, and France is a big market. The digital advertising market in France was worth $3.1 billion in 2017, and it's poised to grow to $3.8 billion by 2021, according to eMarketer estimates.