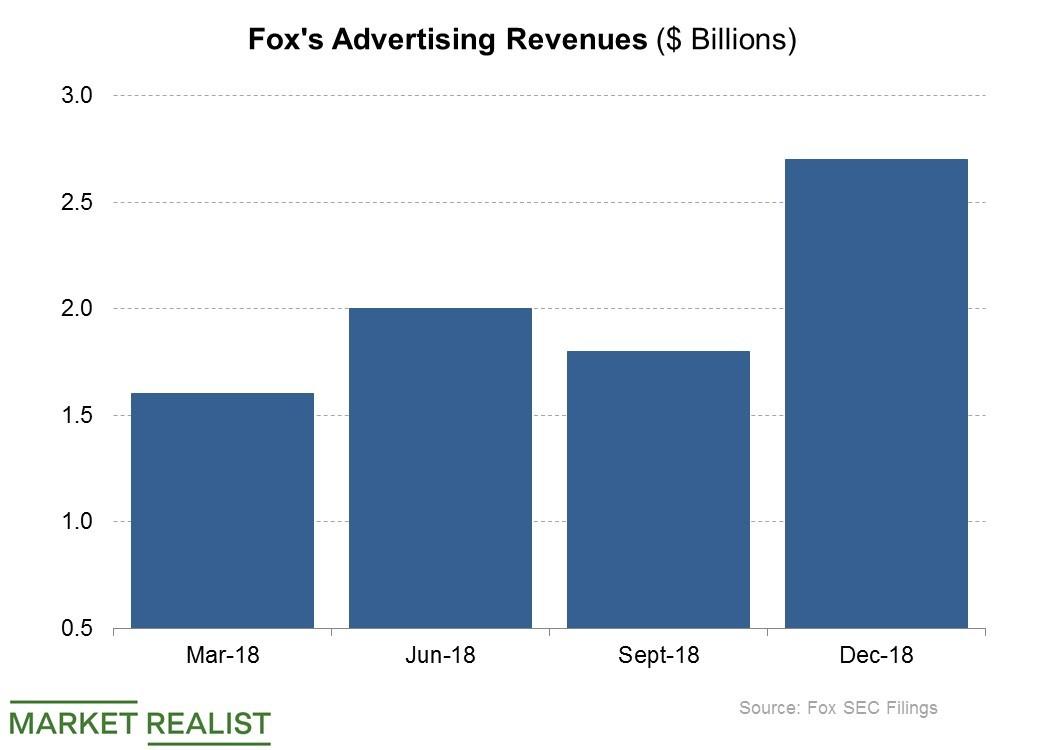 Fox Changes Tactics in Pursuit of Ad Dollars
By Ruchi Gupta

Mar. 11 2019, Published 12:16 p.m. ET
Centralized ad-sales team
Once 21st Century Fox (FOX) completes the sale of its entertainment assets to Walt Disney (DIS) later this year, its name will change to Fox, and its focus will narrow to news and sports programming. In news and sports programming, advertising will be a key source of revenue for Fox. In an apparent attempt to bolster its competition for advertising dollars, Fox is reconfiguring its ad-sale strategy. According to a report from Variety, Fox News, Fox's cable news outlet, has typically had its own advertising sales team, separate from other Fox properties. But once the deal with Disney is finalized, Fox will have a more centralized ad-sales team. In that new structure, ad sales at Fox News will be overseen by the same executive in charge of ad-sales at other Fox properties.
And Fox is not stopping there. Fox News has planned an event for ad buyers at its studio on March 13, underscoring Fox's willingness to go all-out to court advertisers.
Article continues below advertisement
Fox's ad revenue jumped 8.0%
Fox's advertising revenue rose 8% YoY to $2.7 billion in its second quarter of fiscal 2019, the period ended in December. The company's overall revenue increased 6.0% YoY to $8.5 billion and profit came in at $10.8 billion, translating into EPS of $5.81. The unusually huge quarterly profit was due to the sale of Fox's stake in British broadcaster Sky. CBS (CBS) and Charter Communications (CHTR) reported EPS of $1.49 and $1.29, respectively, for the December quarter. Comcast (CMCSA) posted EPS of $0.55, while Dish Network (DISH) posted EPS of $0.64 for the December quarter.