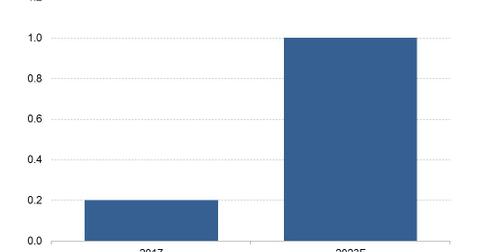 Facebook Looks Close to Launching a Payment Service in India
By Neha Gupta

Updated
WhatsApp Pay waits for the regulatory green light
For more than a year, Facebook (FB) has been testing a mobile payment service linked to its WhatsApp messaging app in India. At the moment, what's holding Facebook back from fully rolling out the WhatsApp Pay service in India is a lack of regulatory approval to do so, according to a report from Quartz.
According to the report, India's data storage rules are the sticking point. India requires digital payment services to store data locally, but Facebook has yet to fully comply with this requirement in relation to its WhatsApp Pay service. This is a challenge that other foreign companies operating in India have run into and surpassed, indicating that it could just be a small wrinkle that's currently keeping WhatsApp Pay from going full blast in India. For example, Amazon (AMZN), PayPal (PYPL), and Google (GOOGL) also initially resisted India's requirement on local data storage but have since complied.
Article continues below advertisement
A $1.0 trillion market for WhatsApp Pay in India
The growth opportunity in India's digital payment market is too good for Facebook to pass up, particularly considering that the company is actually seeking new revenue streams outside advertising. India's digital payment market will expand fivefold in the next few years to reach $1.0 trillion by 2023, Credit Suisse predictions show.
Beyond facilitating payments, major digital payment services in India have also ventured into lending, thereby enlarging their addressable market. Google, for instance, introduced a credit service under its India-specific mobile payment service, Tez, last year. Alibaba (BABA), which makes business and consumer loans through its Ant Financial affiliate, also has a foothold in India's mobile payment market. Alibaba backs Paytm, India's leading mobile payment provider.