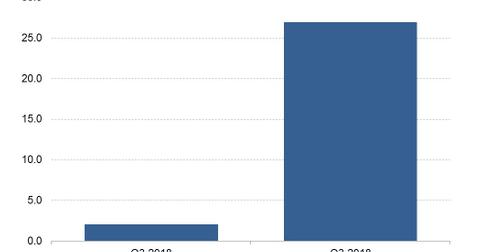 Facebook Is Doubling Down on the $27 Billion VR Market
By Neha Gupta

Updated
Oculus to launch new products in the coming months
This month, Facebook's (FB) Oculus subsidiary unveiled an improved version of its original Rift VR headset, thereby refreshing and expanding its portfolio of VR products. The Oculus Rift S, as the new headset is called, will arrive in spring and will cost $400. In addition to the Rift S, Oculus is also gearing up to release another VR headset called Oculus Quest in spring, indicating a company seeking to seize the massive revenue opportunity in the VR market by having as many horses in the race as possible.
The global VR market is set for rapid growth in the coming years, with Zion Market Research predicting the market will be worth $26.9 billion by 2022. The VR market was estimated to be worth just $2.0 billion in 2016.
Oculus expanding into the business market
Oculus was an independent company developing VR systems before Facebook bought it for $2.0 billion in 2014. Oculus has released several products under Facebook and continues to expand its portfolio as it seeks to lead the race in the multibillion-dollar global VR market. Other companies battling for revenue opportunity in the VR market include Sony (SNE), Google (GOOGL), and Samsung (SSNLF), each of which has launched its own consumer VR headset.
But Oculus is going beyond the consumer market. Early this month, Variety discovered a job listing in which Oculus was seeking to recruit experts to help it build VR products for business users.
Facebook seeks to diversify its business
For Facebook, the Oculus business is part of its efforts to diversify outside the advertising market, which currently contributes the vast majority of its revenue. Facebook derived 98% of its fourth-quarter revenue from the advertising business. Advertising contributed 87% of revenue at Twitter (TWTR) and 76% of revenue at Yandex (YNDX) in the fourth quarter.