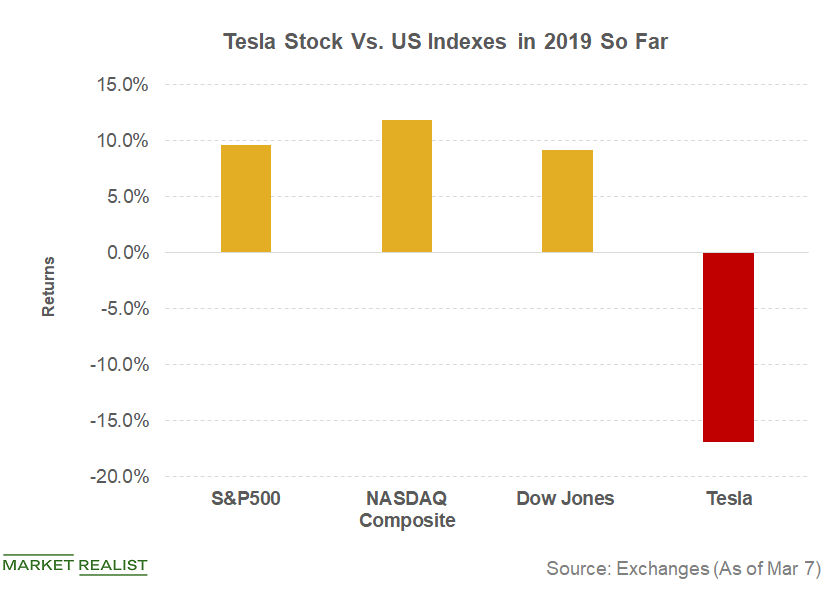 Elon Musk versus the SEC: No One Ready to Throw in the Towel
By Jitendra Parashar

Mar. 8 2019, Published 3:49 p.m. ET
Elon Musk
In the previous part of this series, we looked at Tesla's (TSLA) CEO, Elon Musk's, recent tweets in which he announced that the company will unveil its lower-priced SUV, the Model Y, on March 14. Tesla's new SUV is likely to help it compete with its Chinese peer, NIO (NIO). Musk currently has over 25 million followers on Twitter, and he's known for being very active on the platform.
Article continues below advertisement
SEC's allegations about Musk
In August 2018, Musk posted his infamous tweet saying, "Am considering taking Tesla private at $420. Funding secured." The tweet attracted legal trouble for Musk as the SEC charged him with securities fraud for misleading tweets and found him guilty of misleading investors (XLY). As part of the settlement between the SEC and Musk, Tesla and Musk paid $40 million in penalties, $20 million each, and Musk had to step down as Tesla's chairman.
Also, the SEC mandated Tesla to "put in place additional controls and procedures to oversee Musk's communications." After this incident, Musk toned down his tweets a bit, but he remains on the edge SEC settlement violations.
In February 2019, the SEC "asked a judge to hold" the company's CEO, Elon Musk, "in contempt for violating a settlement" from 2018, Bloomberg reported. These charges were about Musk's tweets in which he initially said, "Tesla made 0 cars in 2011, but will make around 500k in 2019." A few hours later, Musk clarified, saying, "Meant to say annualized production rate at end of 2019 probably around 500k, ie 10k cars/week. Deliveries for year still estimated to be about 400k."
After reports of the SEC's new allegations, Musk said, "SEC forgot to read Tesla earnings transcript, which clearly states 350k to 500k. How embarrassing …" and went on to say that "Something is broken with SEC oversight."
However, experts believe Musk might get into bigger trouble this time as the SEC might also ask him to step down as Tesla's CEO.
In the next part of this series, we'll take a look at Warren Buffett's business partner, Charlie Munger's, views on Musk.