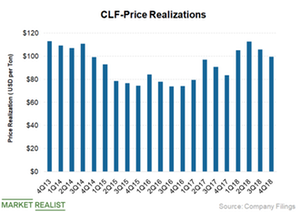 Could Contract Negotiations Boost CLF's Margins?
By Anuradha Garg

Updated
CLF's long-term contracts
Most of Cleveland-Cliffs' (CLF) tonnage is contracted to steelmakers under long-term contracts, improving visibility and reducing volatility for its earnings. Also, as Cliffs CEO Lourenco Goncalves stated during the company's Q4 2018 earnings call, "only about 65% of our sales volumes are currently being sold under contracts negotiated during the years I have been running our company." The remaining 35% of pellets are still sold under older contracts, putting the company in a position to negotiate favorable conditions.
A supplier of choice
In May 2016, CLF entered a ten-year pellet supply agreement with ArcelorMittal (MT) with total purchases up to 10 million tons and a minimum tonnage of 7 million tons. This deal showed CLF's strong negotiating skills and position as a pellet supplier of choice.
Cliffs, the largest and lowest-cost supplier of iron ore pellets in the United States (DIA), accounted for ~55% of rated US capacity last year. Most of the rest of the iron ore pellet capacity is owned by backward-integrated steel players U.S. Steel Corporation (X), AK Steel (AKS), and ArcelorMittal (MT). For iron ore producers based in Brazil and Australia, it's difficult to compete with local iron ore players due to logistic issues.
Upside from contract renegotiations
Contract negotiations could boost CLF's margins. Also, its supply for outside customers could decline as its HBI (hot briquetted iron) plant starts consuming 2.8 million tons of pellets per year, leaving only 17.2 million tons for external customers. This decline in supply for outside customers should also help the company's pricing.