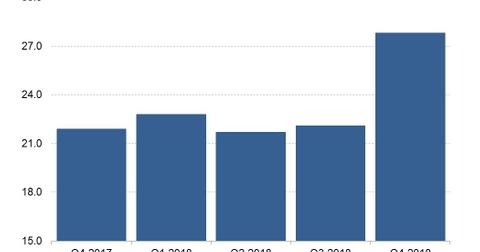 Comcast Signals Intent To Buck Disney's Content Strategy
By Ruchi Gupta

Updated
Comcast to continue licensing its content
Comcast (CMCSA) will continue to license its movies and shows to other digital video providers even as it gears up to launch its own video service next year, according to The Hollywood Reporter. Meanwhile, Walt Disney (DIS) is pulling its movies and shows from Netflix to make them available on its own video service, which is expected to launch in the coming months.
Comcast also licenses its content to Netflix (NFLX). By choosing to keep its content on third-party platforms even as it runs its own, Comcast appears to be following in Viacom's (VIAB) footsteps. Viacom has long embraced working with media disruptors such as Netflix instead of waging war with them like Dish Network (DISH) and AT&T (T). Viacom has contracts to supply Netflix and Snap (SNAP) with content.
Article continues below advertisement
Opportunity to monetize movie archives
Viacom has found that content agreements with streaming services allow it to squeeze more cash from its old movies and shows. Distributing content through third-party platforms such as Netflix and Snapchat also allows Viacom to increase brand awareness, particularly among young people. Comcast also could be interested in a strategy that would allow it to keep drawing from its content archive.
Comcast's upcoming video service is set to supported by advertisements, meaning it would not be a direct competitor with Netflix, which makes money through subscription sales. In the fourth quarter, Comcast's revenue rose 26.1% year-over-year to $27.8 billion.