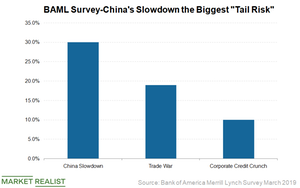 China's Slowdown Overtakes Trade War as Biggest Tail Risk
By Anuradha Garg

Updated
The new biggest tail risk
In Bank of America Merrill Lynch's March 2019 survey, the slowdown in China was cited as the biggest tail risk by the majority of respondents. It trumped trade war concerns—which had remained at the top for the last nine consecutive months—as the number one risk.
A total of 19% of fund managers called trade war concerns the biggest risk compared to the 30% who said the biggest risk was China's slowdown.
Article continues below advertisement
China's slowdown has been worsening, with almost every new data point coming out of the country signaling a dive. According to the data, China's industrial output for January and February combined increased 5.3% YoY (year-over-year), the slowest pace of expansion in the last 17 years. Its unemployment rate grew to 5.3%—the highest level in two years—in January and February from 4.9% in December.
Trade war
In addition to weakening demand, the ongoing trade war tussle between the United States (DIA) (SPY) and China (FXI) is also affecting China's economic health. A meeting between President Donald Trump and Chinese President Xi Jinping, reportedly to sign a trade deal, is expected to happen by the end of this month. However, Bloomberg has reported that the summit could "now take place at the end of April if it happens at all."
The uncertainty surrounding the timing and contents of the US-China trade deal has added a great deal of anxiety to the markets. Like Chinese companies (BABA) (BIDU), many US companies, including Apple (AAPL) and NVIDIA (NVDA), have warned that US-China trade issues are hurting their earnings.
Corporate credit crunch
The corporate credit crunch was cited as the third most prominent tail risk, with 10% of respondents citing it.
"Bond King" Jeffrey Gundlach has also warned about the risk of downgrades in corporate debt. As we highlighted in Why Gundlach Expects a Wave of Corporate Downgrades to Come, Gundlach has used a historical leverage ratio analysis to highlight how a large portion of BBB-rated bonds (BND) should be junk (JNK) right now.