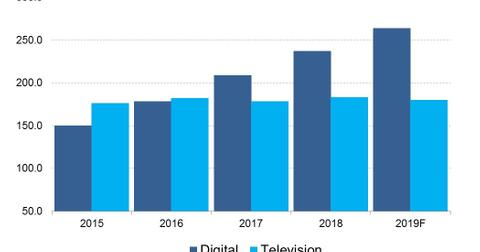 Can Google's YouTube Still Hit $11.4 Billion in Revenue in 2019?
By Ruchi Gupta

Updated
Advertiser boycott hits YouTube again
Before YouTube commented on the issue of child exploitation appearing on its site and companies such as AT&T (T) and Walt Disney (DIS) suspended advertising on the popular video-sharing platform, eMarketer had forecast that YouTube would generate $11.4 billion in revenue for Google in 2019, according to a Reuters report. YouTube's primary source of revenue is advertising, so an advertiser boycott means loss of revenue for the platform and parent Google.
Article continues below advertisement
While Google quickly swung into action by removing YouTube videos and comments that it considers risky to kids, it may take a while for the company to restore advertiser trust in YouTube. In 2017, several big brands including AT&T, Verizon (VZ), and Johnson & Johnson (JNJ) stopped advertising on YouTube following media reports that some YouTube ads were appearing next to objectionable videos. These brands resumed YouTube advertising after Google (GOOGL) promised to address their concerns. AT&T was a long holdout and just resumed YouTube advertising last month. Now it has been forced to yank its commercials from the platform again.
YouTube woes come as Google struggles to defend market share
For Google, YouTube's troubles couldn't come at a worse time. The company is under pressure to defend its market share in the advertising market and has been banking on YouTube to capitalize on the rise of digital video advertising as marketers abandon traditional television commercials. According to Magna estimates cited by Recode, global spending on digital ads will hit $263.9 billion in 2019, surpassing spending on television commercials at $179.8 billion. Back in 2009, global digital ad spending was just $52.7 billion against $133.1 billion in spending on television commercials.