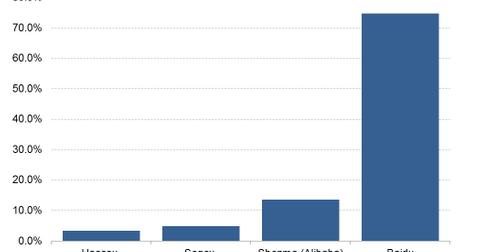 Bytedance Dispute Ends Badly for Baidu
By Neha Gupta

Updated
Baidu ordered to compensate Bytedance executive
Baidu (BIDU) will have to cough up a few thousand dollars to compensate an executive at its rival Bytedance, according to a report from Chinese news outlet TechNode. Li Liang, vice president at Bytedance, sued Baidu for defamation. According to the report, a Chinese court ruled in favor of Liang and ordered Baidu to apologize and pay him 50,000 yuan ($7,500) in damages.
Baidu exited 2018 with over $20 billion in cash stockpiles, meaning that footing a $7,500 bill wouldn't be a big deal for the company. But losing a lawsuit to a leader of a rival company, which also has a pending lawsuit against it in court, can't be exciting for Baidu. Bytedance is one of Baidu's competitors in China's online news aggregation and Internet search space.
Article continues below advertisement
Baidu dominates China's search market
Baidu dominates the Internet search market in China with a 74.6% market share in February, according to StatCounter data compared to a 13.5% share for its closest competitor Shenma, owned by Alibaba (BABA). Sogou (SOGO), Google (GOOGL), and Microsoft (MSFT) held 4.8%, 2.0%, and 1.7% of the Chinese search engine market in February, respectively. Google's share is due to its operations in Hong Kong. Google, Facebook (FB), and Twitter (TWTR) do not operate in the search and social media services market in mainland China.
Baidu downplays threat to search business
Although Baidu currently enjoys a huge lead in China's search engine market, the company is facing growing competition from its smaller rivals including Bytedance. According to a report from the South China Morning Post, this month Bytedance expanded its search service with the introduction of an external search function. However, Baidu has downplayed the threat to its search business, citing its expertise in areas such as artificial intelligence technology, which is important in serving up more relevant search results.