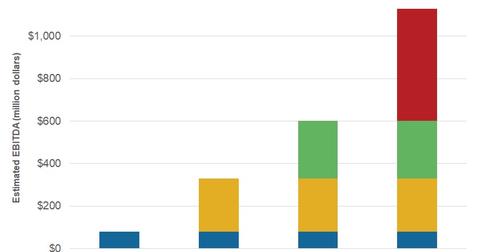 Are MPC's Refining and Midstream Segments Still Growing?
By Maitali Ramkumar

Updated
Refining segment
In the previous part, we saw that Marathon Petroleum (MPC) is progressing well on its growth trajectory. In this part, we'll review the Refining and Midstream segments' growth projects.
In the Refining segment, the key ongoing projects include the Garyville Coker 3 project, the Galveston Bay Star program, the Dickinson Renewable Diesel project, and the Los Angeles LARIC project. These projects are meant to increase yield flexibility, upgrade capabilities, and improve conversion capacities. The four projects are expected to add a little over $1.0 billion of annual EBITDA to the company by 2022.
Article continues below advertisement
Around half of the projected EBITDA is expected from the Galveston Bay Star program. The program is expected to increase the site's refining capacity by 40,000 barrels per day. The project will also increase the resid processing capability, improve gasoil recovery, and reduce the cost at the site. The project's total capex is $1.5 billion. Among the total capex, $1.2 billion is expected to be spent from 2019 to 2022. The Garyville and Dickinson projects are each expected to add $180 million of the annual EBITDA. The LARIC project is expected to contribute $125 million of the annual EBITDA.
Midstream segment
Marathon Petroleum plans to increase its capacities in gathering and processing, long-haul pipelines, fractionation, and export terminals.
In the Permian, Marathon Petroleum has the Conan crude gathering system. The company also has natural gas gathering and processing plants at Hidalgo and Argo. Marathon Petroleum expects to set up three more plants in the region—Apollo, Torñado, and Preakness. The system and plants will feed crude oil to the Gray Oak and PGC pipelines and natural gas to Whistler pipeline. The system and plants will reduce the cost and increase the company's stable midstream earnings. Marathon Petroleum plans to expand its export terminals to tap global third-party revenues. The company has the Mt. Airy and LOOP terminals in operation. Marathon Petroleum's planned terminals include South Texas Gateway and Texas City. Like the Permian, the company continues to grow third-party revenues in the Bakken and Marcellus/Utica regions.
Marathon Petroleum's growth activities have been ongoing for the past few years. The growth activities have started yielding results. In 2018, Marathon Petroleum's midstream earnings rose 106% YoY to $2.8 billion. The segment contributed 49% to the company's total operating income—more than the refining earnings. The Midstream segment could partially shield the company from volatile refining earnings.