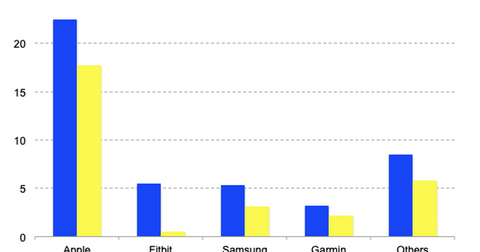 Apple Still Leads the Smartwatch Space, but Growth Is Slowing
By Sanmit Amin

Mar. 5 2019, Published 3:32 p.m. ET
Apple had a 50% market share in smartwatches in 2018
Apple (AAPL) disrupted the wearable segment (WEAR) a few years back by launching its smartwatches, which almost instantly became more popular than regular fitness trackers, hurting wearable companies—particularly Fitbit (FIT).
The company is not only a clear leader in smartwatches but also has the highest market share in the overall wearable segment. However, according to research by Strategy Analytics, Apple's market share in smartwatches is declining.
According to the research house, Apple's market share declined from 60.4% in 2017 to 50.0% last year despite a 27.1% increase in shipments to 22.5 million in 2018.
The overall smartwatch shipment reached 45 million in 2018, 53.6% growth from the previous year, driven by Fitbit, Samsung (SSNLF), and Garmin (GRMN), which have launched their own smartwatches.
Article continues below advertisement
Fitbit had to launch its own smartwatch to remain competitive
While Apple is still hands-down the leader in the segment, its growth is slowing and its market share is declining. Apple's revenue from its Wearables, Home, and Accessories segments—which include its revenue from smartwatches—jumped 33.3% in its first quarter of fiscal 2019 to $7.3 billion.
The popularity of Apple's smartwatches was killing Fitbit, which then launched its own smartwatches. Its second smartwatch, the Versa, launched in February 2018 and saw decent success.
Fitbit's smartwatch shipments rose to 5.5 million in 2018, compared to 0.5 million in 2017. Fitbit launched its first smartwatch, the Ionic, in the fall of 2017 but received a lukewarm response.