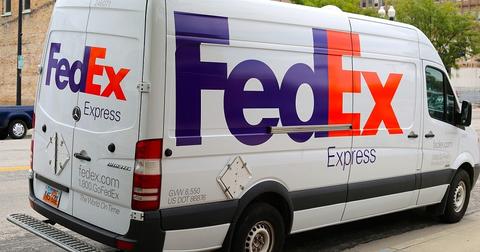 Analyst: FedEx Could Boost Its Stock with Increased Buybacks
By Anirudha Bhagat

Updated
FedEx may increase its share repurchases
Shares of FedEx (FDX) are up 1.6% today after an analyst predicted that the company might announce an increase in its share repurchases during its fiscal 2019 third-quarter earnings release on March 19.
Bank of America (BAC) analyst Ken Hoexter believes that FedEx will boost its share price by increasing its share buybacks. The logistics (IYT) company has lost ~27.6% of its value in the last year, underperforming its rival United Parcel Service's (UPS) gain of 1.5% in the same period.
In a note to clients, Hoexter wrote, "Given the share price decline at FDX, we believe it may look to reduce capex to increase its planned buyback. The company could discuss such a plan when it reports on Tuesday," CNBC reported.
Article continues below advertisement
According to the news agency, the analyst believes that FedEx could increase its share repurchases by $2.5 billion if it delays half of its planned cargo airplane purchases from the Boeing Company (BA) for two years. However, Hoexter stated that "the near term slowing of purchases would come at the expense of its fleet refresh, which would delay the benefits to its improvement plan." FedEx has ordered a total of seven Boeing 777 and 35 Boeing 767 jets, which it expects to receive in the next two years.
Share repurchases
FedEx has consistently sought to enhance shareholders' wealth through aggressive share repurchases. Share buybacks are considered a more tax-efficient way of enhancing shareholders' returns than dividend payments. Share buybacks result in a decline in the number of a company's outstanding shares, thereby boosting its EPS.
Since 2014, the company has repurchased ~$13 billion worth of its common stock. In fiscal 2018, FedEx repurchased ~$1 billion worth of its common stock. Continuing with its shareholder wealth enhancement policy, the company bought back $1.3 billion worth of its shares in the first half of fiscal 2019.
Share buybacks and dividend payments indicate a company's sound financial position. FedEx ended the second quarter of fiscal 2019 with $2.1 billion in cash and equivalents. During the first half of the year, the company generated $2.2 billion in operating cash flows.