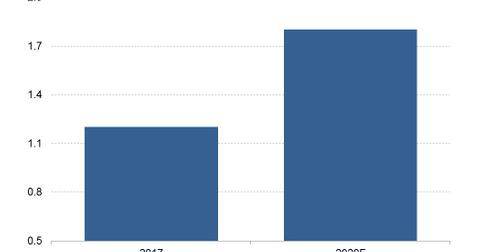 Amazon's Anti-Counterfeit Push Shakes the Marketplace
By Neha Gupta

Updated
Amazon drops suppliers amid anti-counterfeit push
Last month, Amazon (AMZN) launched a new anti-counterfeit program called Project Zero. Under this program, Amazon provides brands with tools to directly take infringing products down from its marketplace. This month, Amazon took its anti-counterfeit war a step further by dropping some of its own suppliers. As Bloomberg reported, Amazon abruptly stopped purchasing goods from thousands of its longtime third-party suppliers as it shifted toward procuring inventory directly from brand owners. The report stated that fighting fakes was the major reason for Amazon's shift in its inventory procurement strategy.
Amazon cut ties with some of its suppliers after it showed in its 2018 annual regulatory filing that counterfeiting had become a major risk factor for its business.
Article continues below advertisement
The cost of counterfeits
For legitimate brands, counterfeiting is a huge drain on sales. According to ResearchAndMarkets estimates, the worldwide sale of counterfeit goods hit $1.2 trillion in 2017 and may rise to $1.8 trillion by 2020 if actions aren't taken to slow the problem. Alibaba (BABA) is another major e-commerce company that has been struggling with a counterfeit problem, resulting in its marketplace being blacklisted in the United States as a purveyor of brand-infringing goods.
Online trade in counterfeit goods cost brands $323 billion in lost market opportunity in 2017, estimates show. Amazon alone accounted for nearly 50% of all online retail sales in the United States in 2018, according to eMarketer data. eBay (EBAY), Walmart (WMT), Home Depot (HD), and Best Buy (BB) captured 6.6%, 3.7%, 1.6%, and 1.3% of the US online retail market last year.