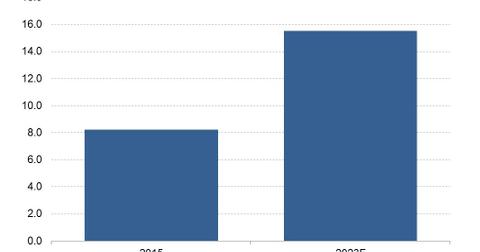 Amazon Quietly Zeroing in on $15.5 Trillion Opportunity
By Neha Gupta

Updated
Amazon steadily transforming into a logistics powerhouse
There is a multitrillion-dollar industry that Amazon (AMZN) is quietly zeroing in on: transportation and logistics. In recent months, analysts at Morgan Stanley and UBS have pointed out that Amazon poses a huge threat to logistics giants FedEx (FDX) and United Parcel Service (UPS), as Bloomberg has reported.
For a long time, Amazon has been working to build out its logistics system. In addition to using its fleet of jets to transport packages, Amazon also operates a fleet of delivery trucks and vans. Early this year, Amazon expanded its logistics operations by bringing robots into the mix for last-mile deliveries.
Amazon's ambitions hint that logistics could be next big focus
While Amazon looks to be initially focused on taking control of its delivery operations and possibly cutting its shipping costs, nothing would stop the company from challenging the likes of FedEx and UPS for revenue in the logistics market. In any case, Amazon already provides third-party delivery services where it ships packages on behalf of its marketplace sellers through fulfillment by the Amazon program.
For a company with big ambitions like Amazon, the logistics industry would be irresistible for the company to try to conquer. According to the findings of Transparency Market Research, the global logistics market was worth $8.2 trillion in 2015 and is poised to grow to $15.5 trillion by 2023.
Amazon peers are also looking beyond e-commerce
But Amazon is far from being the only e-commerce giant training its eyes on the multitrillion-dollar logistics industry. Chinese e-commerce powerhouses JD.com (JD) and Alibaba (BABA) also are busy building their own logistic systems complete with planes, drones, and rolling robots as they seek to speed up their deliveries and open new revenue sources. For instance, JD last year ventured into the express parcel delivery business in China.