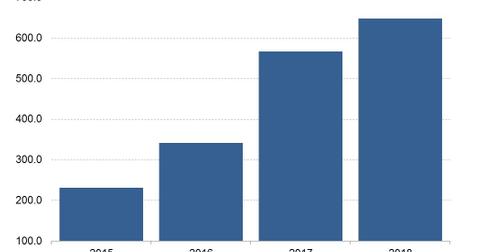 Amazon Pursues Healthcare Joint Venture as Costs Soar
By Neha Gupta

Updated
Amazon's growing headcount
Amazon's (AMZN) operating costs have been soaring in recent years as the company expands its workforce and business empire. The company exited 2018 with 647,500 full-time employees worldwide, up from 566,000 at the start of the year. Amazon is also spending big to extend its global footprint both in retail and cloud computing. In India, for instance, the company is planning to spend more than $5.0 billion to grow its business in the country.
But Amazon's ambitions have become expensive, raising the need for the company to find new ways to control costs. In 2018, the company incurred $220.5 billion in operating expenses, an increase of 27% from the previous year.
Article continues below advertisement
Amazon's healthcare joint venture
A little more than a year ago, Amazon teamed up with Berkshire Hathaway (BRK) and JPMorgan Chase (JPM) on a program designed to deliver better healthcare outcomes at lower costs for their 1.2 million employees in the United States.
Early this month, the companies revealed that their healthcare joint venture will be called Haven. Haven is headquartered in Boston and also operates an office in New York. Haven's focus will be delivering more affordable and better healthcare outcomes for employees of its founding members, but it is also open to working with other partners.
Cost-saving opportunity opening up for Amazon
Amazon hasn't revealed how much in costs it expects to save through the Haven program. But this is an effort that could save the company a decent amount of money that could be reinvested to drive more growth in the business or returned to investors. Amazon currently doesn't pay dividends. Also, the company hasn't repurchased its shares for many years now unlike Alphabet (GOOGL) and Facebook (FB), which last year announced share repurchase programs of $8.6 billion and $18 billion, respectively.