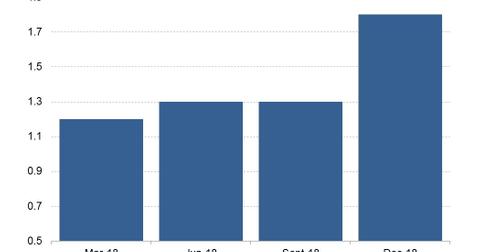 Alibaba Wraps Up Dispute over Alibabacoin Trademark
By Neha Gupta

Updated
Alibaba takes Alibabacoin trademark
Alibaba (BABA) has taken over the Alibabacoin trademark from a Dubai firm that it had accused of brand squatting. In April 2018, Alibaba sued Dubai-based ABBC Foundation, also known as Alibabacoin Foundation, for trademark infringement. But ABBC countered, saying it did nothing wrong using a generic term originating from the Middle East.
After nearly a year of push-and-pull, Alibaba and ABBC have now reached a settlement that requires ABBC to stop using trademarks that include the term "Alibaba," the Arabian Business reported. ABBC also apologized for the confusion that its previous use of "Alibabacoin" trademark may have caused. ABBC Foundation is a Dubai company in the cryptocurrency business. It named its bitcoin-like cryptocurrency product Alibabacoin, which Alibaba objected to due to the risk of confusion and an attempt to profit off its strong brand reputation.
Alibaba spent 11% of revenue on marking activities
Big brands like Alibaba guard their trademarks jealously, partly because they invest huge sums of money to market their brands and don't want anyone to profit off their sweat without permission. In its third quarter ended in December, Alibaba spent $1.8 billion on marketing activities, with the marketing budget presenting close to 11% of the revenue it generated in the quarter. Amazon (AMZN), JD.com (JD), and eBay (EBAY) spent $4.9 billion, $960 million, and $945 million on marketing activities in the December quarter, respectively. Groupon (GRPN) spent $109.7 million on marketing in the December quarter.
Given its struggles with brand forgery on its marketplaces, Alibaba cannot take chances when it comes to defending its trademarks.