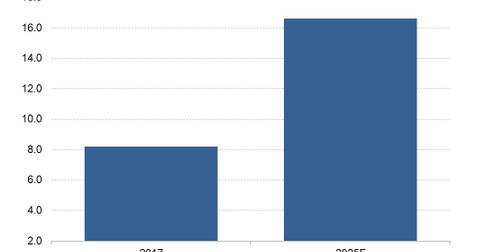 Alibaba Makes Move That May Upset Cisco and Microsoft
By Neha Gupta

Mar. 29 2019, Published 1:42 p.m. ET
Alibaba buys Teambition
Alibaba (BABA) has acquired workplace team collaboration platform Teambition, according to a report from TechNode. Teambition operates a platform where teams in a company or organization can share documents and collaborate on projects. It launched in 2011 and has attracted more than 7.0 million users and heavyweight clients such as Xiaomi, Huawei, and TCL. TCL is the Chinese company that BlackBerry (BB) contracted to make phones under its brand name. Teambition fees start at $46 a year.
Article continues below advertisement
Alibaba sets sight on $16.6 billion prize
Global team collaboration software market is poised to grow to $16.6 billion by 2025 from $8.2 billion in 2017, according to Grand View Research estimates. Alibaba already operates in the team collaboration software market through a product called DingTalk. Therefore, the acquisition of Teambition marks Alibaba's expansion in this market, which may come as a disappointment to Cisco Systems (CSCO) and Microsoft (MSFT).
Just this month, Cisco revealed plans to expand in the team collaboration software market by opening another data center in Australia to support its Webex platform. Microsoft is seeking an opening in the hospital market for its workplace collaboration software called Teams. Given Alibaba's (BABA) deep pockets and broad ambitions, its takeover of Teambition is likely to hit the likes of Cisco and Microsoft with more competition in the team collaboration software market.
Alibaba's purchase of Teambition could also heap more competitive pressure on Tencent (TCEHY) with its WeChat Work product.