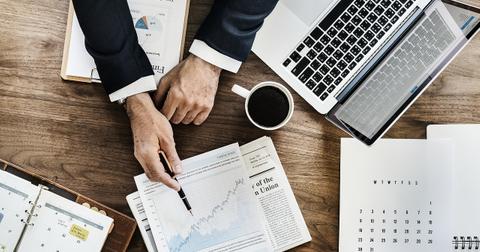 After Warning against Doomsayers, Has Buffett Turned into One?
By Mohit Oberoi, CFA

Updated
Buffett
In a telephone interview, Berkshire Hathaway's (BRK-B) chair Warren Buffett said, "I'm not a fan of MMT — not at all." MMT stands for modern monetary theory. According to Bloomberg, "The main argument of MMT is that any country that prints its own currency can't go broke, so a country like the US has a lot more room to deficit spend than normally thought, especially given low interest rates." Buffett also said in the interview that "We don't need to get into danger zones, and we don't know precisely where they are."
Article continues below advertisement
2018 shareholder letter
Markets have been concerned over the spiraling US government deficit. However, in his 2018 shareholder letter, Buffett had cautioned against doomsayers. Buffett said, "Those who regularly preach doom because of government budget deficits (as I regularly did myself for many years) might note that our country's national debt has increased roughly 400-fold during the last of my 77-year periods." He also added that if investors had panicked because of the deficit and chosen gold over stocks (SPY), they would have been much worse off over the period.
Berkshire Hathaway
Apple (AAPL) was the biggest holding in Berkshire Hathaway's portfolio at the end of the fourth quarter. It also holds a stake in Coca Cola (KO) and Kraft Heinz (KHC). Berkshire Hathaway's portfolio is overweight on financials with exposure to companies including Wells Fargo (WFC), Goldman Sachs (GS), JPMorgan Chase (JPM), Bank of America (BAC), and American Express (AXP).
To be sure, Buffett's investment philosophy has evolved over the last five decades and the legendary investor has changed his views on airline companies and placed bets on tech companies like IBM (IBM) and Oracle (ORCL). Read How Warren Buffett's Investment Philosophy Has Evolved for more information.