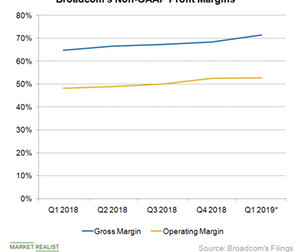 Acquisition Boosts Broadcom's Profit Margins but Reduces Its EPS
By Puja Tayal

Updated
Broadcom's profit margins
Previously, we learned that Broadcom's (AVGO) mergers and acquisitions have been improving its cash flows but also adding to its balance sheet debt. Despite its high balance sheet debt, Broadcom stock made a new high recently as its CA Technologies acquisition helped it improve its profit margins.
In fiscal 2019, the integration of CA Technologies added a new high-margin revenue stream of software licensing to Broadcom's earnings, which boosted its profit margins.
Article continues below advertisement
Gross margin
In the first quarter of fiscal 2019, Broadcom's non-GAAP (generally accepted accounting principles) gross margin expanded to 71.4% from 68.4% in the previous quarter, beating rival Texas Instruments' (TXN) gross margin of 64.8%. Broadcom's gross margin expanded 452 basis points sequentially as CA Technologies added $1.4 billion in revenue while its cost of revenue remained unchanged from the previous quarter. Costs related to software development are reported in its operating expenses.
Operating margin
Broadcom's fiscal 2019 first-quarter non-GAAP operating expenses rose 25.3% sequentially, as the quarter included CA Technologies' software development expenses. Broadcom's revenue rose 6.5% sequentially. Its expenses rising faster than its revenue mitigated the benefit of its high gross margin, and the company reported a non-GAAP operating margin of 52.7% in the first quarter of fiscal 2019.
EPS
Broadcom's fiscal 2019 first-quarter non-GAAP EPS fell 5% sequentially to $5.55 despite a $3.5 billion stock buyback. Its EPS fell because the high debt coming from its CA Technologies acquisition increased its net interest expense by 133% sequentially, which more than offset the impact of the buyback.