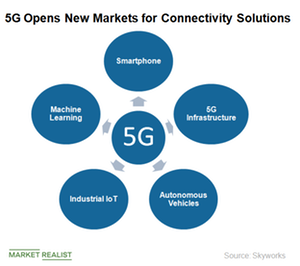 5G Revolution: Skyworks and Qorvo Expand beyond Smartphones
By Puja Tayal

Mar. 28 2019, Updated 1:22 p.m. ET
5G technology
The 5G revolution is a connectivity technology that will offer high broadband speed with low latency. The technology will connect several devices to the Internet simultaneously.
The 5G network will provide an ecosystem that will support the adoption of IoT (Internet-of-Things) and AI, which involves the collection, processing, and analysis of a huge amount of data. Devices will need high-speed wireless connectivity to transmit and receive data, which opens new avenues for connectivity solutions beyond smartphones.
Article continues below advertisement
Skyworks and Qorvo's connectivity solutions
Skyworks (SWKS) offers RF (radio frequency) solutions like power amplifiers, filters, switches, and RFFE (radio frequency front-end) modules that support wireless transmissions. The company mainly caters to smartphone manufacturers. However, Skyworks is expanding its presence in the non-mobile space like automobiles and wireless routers.
Qorvo (QRVO) offers similar RF products to handset makers. The company also has a presence in the non-smartphone space. Qorvo offers wireless base stations, infrastructure and military applications, and cable TV and networking equipment.
Smartphone
The smartphone market will likely continue to be the biggest market for connectivity solutions. According to Skyworks, the RF content per phone increases with advanced technology. A typical 2G cellphone had ~$3 of RF content, which rose to $8 for a 3G smartphone, and to $18 for a 4G smartphone. Now, Skyworks expects a 5G smartphone to have $25 of RF content.
Skyworks and Qorvo will likely benefit from increased RF content and more smartphone sales. Adopting 5G will encourage consumers to upgrade their phones. Samsung (SSNLF) has already launched its 5G smartphone. However, Skyworks and Qorvo will start realizing the benefit of 5G in 2020 when Apple (AAPL) launches 5G smartphones.
Article continues below advertisement
Connected cars
The 5G network and AI will make autonomous vehicles a reality. According to Skyworks, a complete 5G system architecture for a car will require $15–$20 of connectivity chip content, including Wi-Fi/Bluetooth and cellular connectivity. Although automotive might not be as big of an opportunity as smartphones, it will open a whole new market for connectivity chips.
Industrial IoT and machine learning
The 5G technology will connect various devices from industrial machines to home appliances and surveillance cameras to the Internet. The devices will use machine learning to perform a task. The devices will need high bandwidth solutions offered by Skyworks and Qorvo.
Qorvo will also benefit from 5G infrastructure deployment. The company offers wireless base stations and infrastructure solutions.