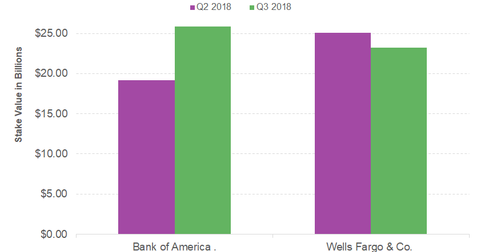 Will Warren Buffett's Huge Bets on the Banking Sector Continue?
By Jitendra Parashar

Updated
Buffet's moves in banking
In the first three quarters of 2018, world-renowned billionaire investor Warren Buffett's Berkshire Hathaway (BRK.A) (BRK.B) increased its bets on the banking sector.
The company added more shares of large banks (SPY) (QQQ) such as Bank of America (BAC), U.S. Bancorp (USB), and Goldman Sachs (GS) to its portfolio.
Article continues below advertisement
Buffett's trust in the banking sector
In the third quarter, Berkshire added ~198.25 million more shares of Bank of America to its portfolio. At the end of the quarter, the company held a total of ~877.24 million shares of BAC with an increase of 35% from the previous quarter. With this, Bank of America was Berkshire's second-largest holding at the end of the third quarter of 2018.
At the end of the third quarter, the stake value of Buffett's investment in American Express (AXP) was $16.15 billion, making it the sixth most valuable holding for Berkshire. Berkshire added ~5.10 million new shares of Goldman Sachs, which increased its stake value in the bank by 40.8% from the previous quarter to $4.12 billion. Buffett also bought 24.23 million new shares of U.S. Bancorp in the third quarter, bringing its total stake value in the company to $6.60 billion at the end of the quarter.
In contrast, Berkshire Hathaway reduced its position in Wells Fargo & Company (WFC) to ~45.20 million shares by selling ~9.65 million shares in the third quarter. Even after that, Berkshire's stake value in Well Fargo was $23.25 billion at the end of the quarter.
When Buffett's Berkshire Hathaway files its 13F form with the Securities and Exchange Commission, investors will likely be closely watching for changes in its banking sector positions to get a clue about Buffett's views on the banking industry.