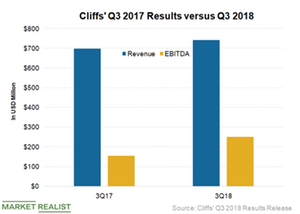 Will Cliffs' CEO Target Analysts and Short Sellers Again?
By Anuradha Garg

Feb. 6 2019, Updated 9:40 a.m. ET
CLF's CEO scorches analysts
Cleveland-Cliffs' (CLF) CEO, Lourenco Goncalves, who is known to be plain-spoken and expressive during the company's earnings calls, has berated analysts several times. During CLF's third-quarter earnings call on October 19, he called out several analysts for their "lack of knowledge." He stated, "you don't understand our business, you don't understand your own business. You are a disaster. You are an embarrassment to your parents."
He specifically mentioned Goldman Sachs (GS) analyst Matthew Korn, saying, "You can run, but you can't hide." After CLF's results were announced and before the conference call, Korn released a note stating that the company had slightly missed its earnings estimates.
Article continues below advertisement
What irked Cliffs' CEO?
The CEO was probably irked because the company's year-over-year comparables were strong, and it maintained its volumes and realized price guidance. Moreover, it positively surprised the markets by initiating regular dividend payments of $0.20 per year. Despite these positives, its stock price declined sharply after the earnings release. Goncalves tore into Wall Street analysts and short sellers on the conference call.
Targeting short-sellers
Goncalves also targeted the company's short sellers, saying that they would use the surplus "money to reward the long-term shareholders. So if the stock continues to go down, based on these kids that play with computers and somebody else's money, we are going to buy back stock. We are going to screw these guys so badly that I don't believe that they will be able to only resign; they will have to commit suicide."
When asked by CNBC if he would target analysts like that again, Goncalves responded, "Oh yeah, absolutely…when you're not the CEO of Facebook (FB), Google (GOOG) or Tesla (TSLA), being on CNBC at 3 p.m. is a big accomplishment."
An unfavorable stock price reaction after its earnings release could again prompt Cliffs' CEO to react similarly during its upcoming earnings call.