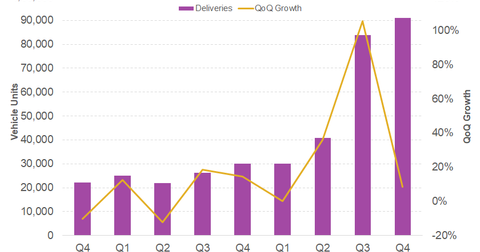 Why Tesla Shouldn't Ignore Repeated Fire Incidents at Its Plant
By Jitendra Parashar

Updated
Elon Musk
In the previous article, we talked about celebrity billionaire and Tesla (TSLA) CEO Elon Musk's Twitter obsession. Now, let's talk about a recent fire incident at its production plant in Fremont, California.
Article continues below advertisement
Fire at Tesla plant
On the night of February 16, a fire broke out at Tesla's Fremont-based car production plant, the East Bay Times reported. According to the report, the fire was contained by the Fremont Fire Department shortly after it broke out in "a 10 foot by 10 foot area containing hazardous waste near an exterior storage area."
Citing a Tesla spokesperson, the news report also claimed that the fire did not affect Tesla car production.
This was not the first time Tesla's Fremont production facility had witnessed a fire incident. In August 2018, a minor fire broke out in the same production facility, and it was also contained by the Fremont Fire Department. Similarly, in June 2018, two other minor fire incidents were reported at the factory.
While these fire incidents didn't cause any casualties or obstruction to car production, their frequency has been alarmingly high. At the moment, Tesla continues to focus on increasing its vehicle production, but at the same time, it shouldn't ignore these minor fire incidents and wait for a big one in order to act.
In May 2018, an explosion and fire at Meridian Magnesium Products in Eaton Rapids affected vehicle production for several automakers (XLY), including Ford Motor Company (F), General Motors (GM), and Fiat Chrysler Automobiles (FCAU).
In the next article, we'll see how Tesla's valuation multiples look in February 2019.